Heavy Haulers Equipment Shipping Services For Detroit, Michigan
Heavy Haulers is one of the country's premiere transport companies. In particular, we specialize in shipping or towing oversized/superload equipment and vehicles through the United States, Canada and Mexico. Detroit, Kalamazoo and Flint, Michigan are popular destinations for manufacturing and auto transport vehicles, requiring the use of specially designed trailers like the Step Deck or the Low Boy . Our trained drivers spend a lot of time in the Midwest region and are knowledgeable in Michigan transport laws and required permits.
Ask Heavy Haulers to transport your machinery between Detroit, MI and any state in the nation, Canada and Mexico. Contact Heavy Haulers for FREE transport estimates at (800) 908-6206.
Recent Transports heavy Haulers has taken to/from Detroit, Michigan Heavy Haulers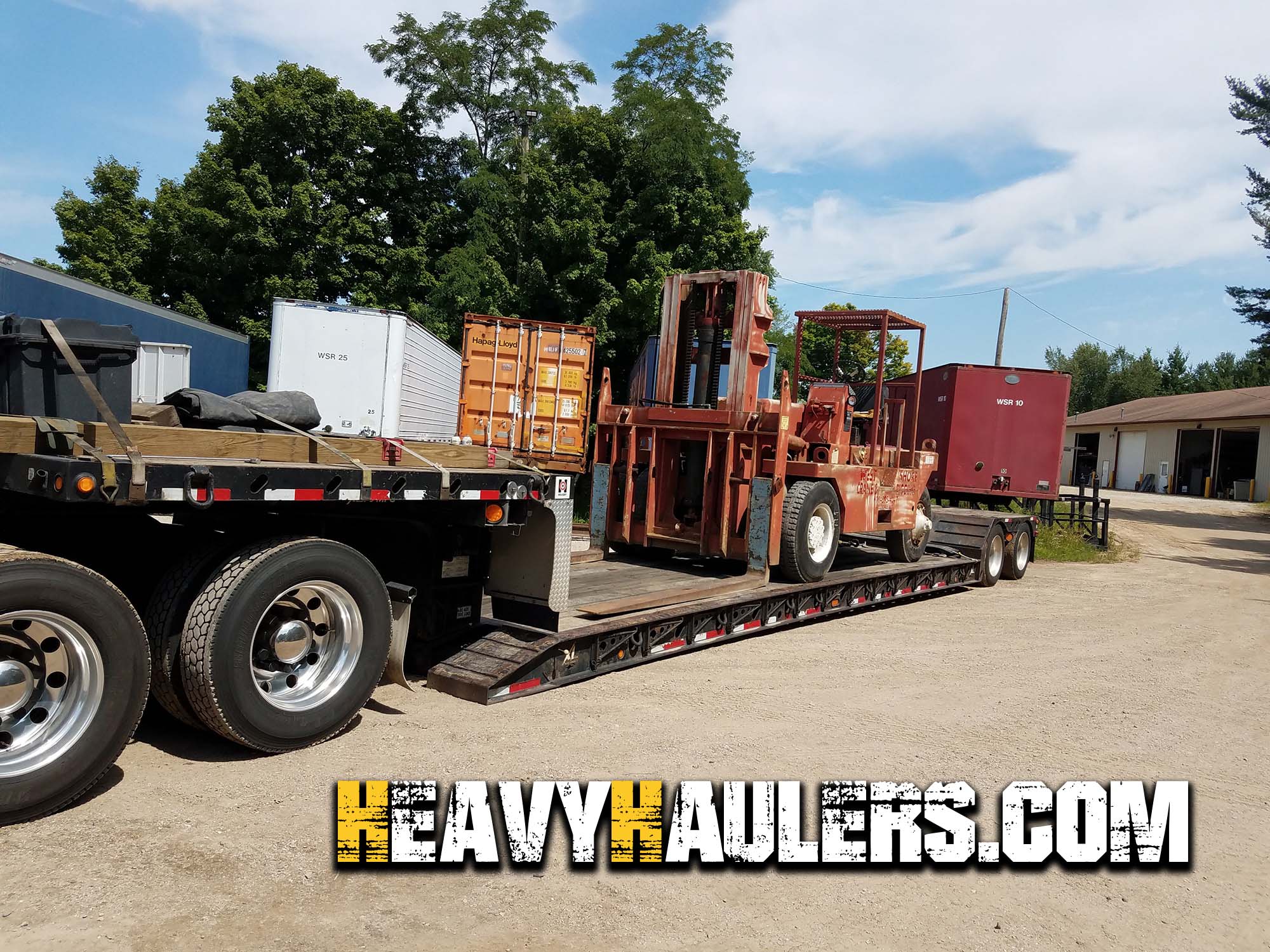 Shipping Taylor Y22W forklift Detroit, MI to Omaha, NE
Willam Thomas at Heavy Haulers recently transported this Taylor Y22W forklift. This Taylor forklift was picked up in Detroit, MI and delivered to Omaha, NE. It was 19 feet long, 7 feet 11 inches wide, 9 feet 11 inches tall and weighed approximately 31,360 pounds. If you need any freight transported call Willam Thomas at Heavy Haulers today to get your estimate or to schedule your next pick up!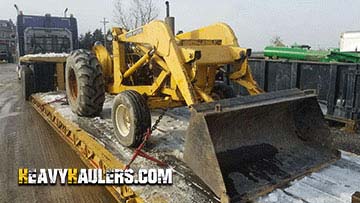 Transporting a John Deere JD400 Backhoe
Heavy Haulers recently transported this John Deere JD400 Backhoe from Sandusky, Detroit, MI, to Pryor, Oklahoma. The trip was nearly 970 miles long. Weight: 8,000 pounds. Length: 15 feet. Width: 8 feet. Height: 9 feet. To transport your Caterpillar backhoe where you need it, speak directly with Mike at Heavy Haulers at: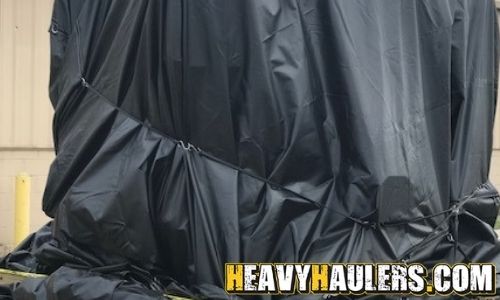 Shipping 1985 Okuma MC4VA CNC Lathe Machine
This is a 1985 Okuma MC4VA CNC Machine Heavy Haulers recently shipped. It was picked up in Detroit, MI and delivered to its destination in Evansville, IN. This particular Okuma CNC Machine had to be forklifted on and off the trailer as well as fully tarped to be hauled. Jamie at Heavy Haulers was able to arrange that on our clients behalf. Call Jamie at Heavy Haulers to schedule your next freight shipment:
Shipping Automotive Equipment around Detroit
Drivers for Heavy Haulers stay up-to-date on Michigan's inter/intra-state shipping regulations when picking a travel route for your super-load haul. We survey the landscape and monitor weather conditions in the area before we ever start on the road. I-75, Rte. 3 and I-96 offer unique challenges for even the best drivers, which is why ours represent the top of their profession. If you'd like to keep an eye on your vehicle during transport, you can use our complimentary tracking service to provide your peace of mind.
Detroit, Michigan Shipping and Transportation Specs
Ports: Port of Detroit

Airports: Detroit Metro Airport

Trailer length limit: 53' semi-trailer on Interstate/designated highways, 50' max on non-designated highways




SUPERLOAD DESIGNATION BEGINS WITH THE FOLLOWING DIMENSIONS

Require up to 10 days to issue

Weight: varies, dealt with on case-by-case basis

Width: 16' (14' during spring thaw)

Height: 15'

Length: 150'

Transport Restrictions: February to April the maximum weight per axle may vary. No overweight permits issued during spring weight restriction period. Loads over 90' long cannot move between 7:00am and 9:00am, as well as 3-6pm. On bridge crossings drivers need to give advanced notice.

Common Transport Equipment: Wheel loaders, Forestry equipment, Drills
Heavy Haulers Can Ship your Oversized Manufacturing Equipment
Heavy Haulers is certified, accredited and insured to provide oversized transport throughout the United States, Canada and Mexico. We are insured with both contingency and carrier insurance to provide you the peace of mind you need. Give us a call at 1-(800) 908-6206 and request a consultation or a free shipping quote, or find out more about our services.
Looking For Transport
With a Specific Trailer?

Max Weight: 150,000+ lbs. | Main Deck Length 29 ft.
| Well Width 8.5 ft. | Legal Height Limit 11.6 ft.

Max Weight: 48,000 lbs. | Max Length 53 ft.
| Max Width 8.5 ft. | Max Height 8.5 ft.
Max Weight: 48,000 lbs. Max Length 53 ft. |
Max Width 8.5 ft. | Max Height 11 ft.
Max Weight: 45,000 lbs. | Max Length 29 ft.
| Max Width 8.5 ft. | Max Height 11.5 ft.
When Shipping Equipment in Detroit, MI with Heavy Haulers;
Heavy Haulers Transport has more than ten years of experience in the transport/hauling industry. Although we specialize in oversized equipment, we can ship your vehicle or equipment no matter the dimensions. We are committed to providing you with excellent service in an efficient manner and will keep your inventory safe from anything that might be encountered during the trip to its final destination. Our nationwide construction-equipment hauling company is:
● Experienced - More than 10 years transporting cargo in the U.S.;

● Double Insured - Carrier and Contingency, Just In Case;

● Professional - Fully Licensed, Bonded and Accredited;

● Efficient - We accept nearly all forms of payment, including cash.
Experience Shipping Heavy Equipment to / from Detroit, MI
Heavy Haulers is an accredited member of the Better Business Bureau, with offices in Florida and Kentucky. Give us a call at for a free shipping quote or make an appointment with one of our professional and friendly customer service representatives. We can't wait to hear from you!
Common Equipment Heavy Haulers Transports
Trust Heavy Haulers to transport any brand of equipment you own. Most of our drivers are experienced heavy-machinery operators who can safely maneuver your loads aboard our trailers. Some of the brands we have shipped include: