Jackson, Mississippi Machinery Shipping Services from Heavy Haulers
Whether you run a construction business or work on an oil rig, purchasing heavy equipment is a vital and expensive part of your business success. Heavy Haulers has been in the business of transporting heavy machinery for more than a decade. We provide oversized shipping and towing all over the southern United States, including Jackson, Mississippi and surrounding towns like Brandon, Clinton and Madison.
Ask Heavy Haulers to transport your machinery between Jackson, MS and any state in the nation, Canada and Mexico. Contact Heavy Haulers for FREE transport estimates at (800) 908-6206.
Our Recent Jackson, Mississippi Shipments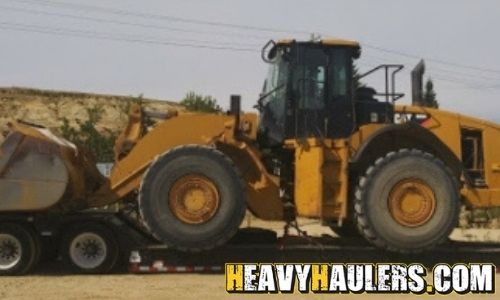 Transporting a CAT 980h wheel loader from Mexia, TX to Jackson, MS
Origin: Mexia, TX
Destination: Jackson, MS
Specs: CAT 980h Wheel Loader; 32L x 11.6W x 12.4H; 70000lbs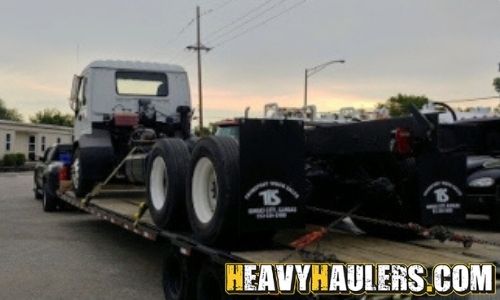 Shipping a GMC daycab from Kansas City to Jackson
Origin: Kansas City, KS
Destination: Jackson, MS
Specs: 2006 GMC Daycab; 33L x 8W x 9H; 18000lbs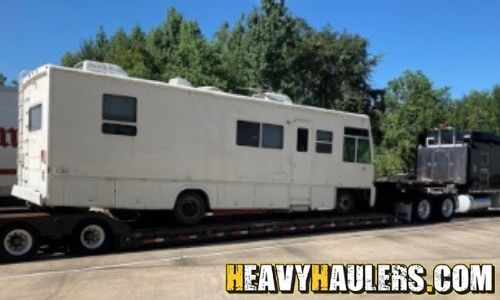 Winnebago Adventurer Motorhome transported from Jackson, MS
Origin: Jackson, MS
Destination: Comfort, TX
Specs: 1999 Winnebago Adventurer Motorhome; 32L x 8.5W x 11H; 32000lbs
Learn the Jackson MS Transport Specs
Heavy Haulers is happy to take on the responsibilities of transporting your oversized loads, especially if they are dimensionally awkward or bulky. We utilize specialized trailers to move Superloads across the south, particularly the Drop-Deck and Flatbed trailers. While Mississippi is easier than many states to travel through, there are still important size and weight restrictions. We will guarantee your shipment receives the proper attention, obtaining a route survey and special approval when needed to avoid future legal difficulties. We are intimately familiar with the nuances of traveling in and around Jackson, from the never-ending headache of the I-55 South Expansion to the well-traveled 49N and I-20.
Jackson MS Hauling and Transport Specs
Airports: Jackson-Evers International Airport, Hawkins Field

Trailer length limit: 53' semi-trailer and load, 99' overall length




SUPERLOAD DESIGNATION BEGINS WITH THE FOLLOWING DIMENSIONS

Weight: 60,000 gross lb on Interstate

Width: 16'

Height: 15'6"

Length: 120'

Transport Restrictions: No Sunday travel allowed, for loads more than 10' wide, escorts are required during night travel. Half-hour after sunrise to half-hour before sunset travel allowed. Some 24-hour movement allowed for lower limit loads. Extra height loads may require route survey, special approval needed for over 16' high.

Common Trailer Types: Removable Gooseneck Trailer, Low Boy, Step-Deck Trailer

Common Transport Vehicle Types: Farm Truck, Fertilizer Truck, Towing Truck
Heavy Haulers Can Ship your Oversized Manufacturing Equipment
Heavy Haulers is certified, accredited and insured to provide oversized transport throughout the United States, Canada and Mexico. We are insured with both contingency and carrier insurance to provide you the peace of mind you need. Give us a call at 1-(800) 908-6206 and request a consultation or a free shipping quote, or find out more about our services.
Looking For Transport
With a Specific Trailer?

Max Weight: 150,000+ lbs. | Main Deck Length 29 ft.
| Well Width 8.5 ft. | Legal Height Limit 11.6 ft.

Max Weight: 48,000 lbs. | Max Length 53 ft.
| Max Width 8.5 ft. | Max Height 8.5 ft.
Max Weight: 48,000 lbs. Max Length 53 ft. |
Max Width 8.5 ft. | Max Height 11 ft.
Max Weight: 45,000 lbs. | Max Length 29 ft.
| Max Width 8.5 ft. | Max Height 11.5 ft.
When Shipping Equipment in Jackson, MS with Heavy Haulers;
Heavy Haulers is one of the country's best at transporting supersized cargo or equipment. We have offices in Florida and Kentucky, as well as affiliates across the country. With both carrier and contingency insurance, we guarantee your equipment reaches its destination in pristine condition so you can focus on your business at hand. Our nationwide construction-equipment hauling company is:
● Experienced - More than 10 years transporting cargo in the U.S.;

● Double Insured - Carrier and Contingency, Just In Case;

● Professional - Fully Licensed, Bonded and Accredited;

● Efficient - We accept nearly all forms of payment, including cash.
Transport Your Machinery in Jackson, Mississippi with Heavy Haulers!
Heavy Haulers has the experience and accreditation to provide heavy equipment hauling both to and from the Jackson area. We are licensed, bonded and doubly insured with contingency and carrier insurance to give you the peace of mind in knowing your cargo is safe no matter what might happen during its trip cross country. Please call us today at (800) 908-6206 and ask for a free shipping quote.
Common Equipment Heavy Haulers Transports
Trust Heavy Haulers to transport any brand of equipment you own. Most of our drivers are experienced heavy-machinery operators who can safely maneuver your loads aboard our trailers. Some of the brands we have shipped include: