Louisville, KY Heavy Equipment Transport Services from Heavy Haulers
Heavy Haulers Transport specializes in transporting over-dimension cargo through North America, from North Carolina to Washington State, Mexico to Canada. Our uniquely trained drivers utilize trailers specified for these "super load" equipment or machinery, the weight of which varies by state. In the heartland, we travel regularly through Kentucky, including Louisville, Elizabethtown and Paducah.
Ask Heavy Haulers to transport your machinery between Louisville, KY and any state in the nation, Canada and Mexico. Contact Heavy Haulers for FREE transport estimates at (800) 908-6206.
Our Recent Louisville, Kentucky Shipments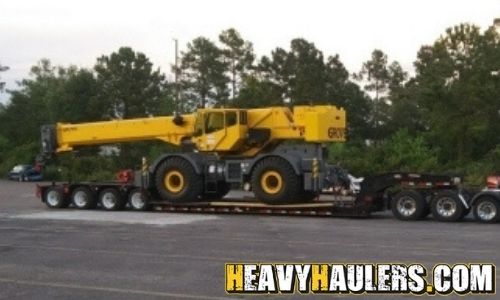 Transporting a Grove RT770E Crane to Louisville, KY
Origin: Baton Rouge, LA
Destination: Louisville, KY
Specs: 2007 Grove RT770E Crane; 44.5L x 11W x 12H; 93000lbs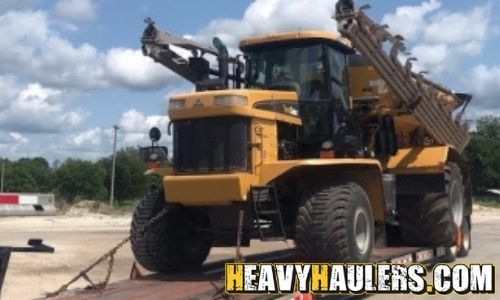 TerraGator TG8400B shipped to Louisville
Origin: Coming, KS
Destination: Lousiville, KY
Specs: 2015 TerraGator TG8400B; 28L x 12W x 12H; 25000lbs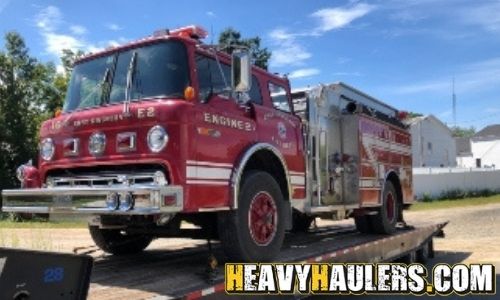 Transporting a Fire Engine from Louisville, KY to Hazelton, PA
Origin: Lousiville, KY
Destination: Hazelton, PA
Specs: Fire Engine; 27L x 8.6W x 10H; 30000lbs
Shipping Manufacturing Equipment in and around Louisville
Our drivers are experts in logistics and transport law for Louisville and other cities in the region. They not only plan their routes carefully based on travel restrictions and traffic flow patterns, they keep an eye on the weather and area construction to give your equipment the best chance of getting to you quickly. Best of all, you can track the path they take using information we'll provide you with before the start of the journey.
Louisville, Kentucky Shipping and Transportation Specs
Ports: Port of Louisville (Jefferson Riverport International)

Airports: Louisville International Airport

Trailer length limit: 53' trailer/load on Interstate, 65' truck and trailer other highways; with permit above 110'




SUPERLOAD DESIGNATION BEGINS WITH THE FOLLOWING DIMENSIONS

Weight: 300,000 lbs gross

Width: 16'

Height: 13'6"

Length: 110'

Transport Restrictions: Loads over 15'6" tall cannot travel through Kentucky unless permitted on a one-time basis. No overweight/over dimensional loads can travel in the greater Louisville area from 7:00am-9:00am and 4:00pm-6:00pm M-F. Most other travel times are allowed.

Common Connecticut Trailer Types: Removable Gooseneck, Drive Away, Flatbed, Drop Deck

Common Transport Equipment: Coal Trucks, Bucket Trucks, Transformers, Generators
Heavy Haulers Can Ship your Oversized Manufacturing Equipment
Heavy Haulers is certified, accredited and insured to provide oversized transport throughout the United States, Canada and Mexico. We are insured with both contingency and carrier insurance to provide you the peace of mind you need. Give us a call at 1-(800) 908-6206 and request a consultation or a free shipping quote, or find out more about our services.
Looking For Transport
With a Specific Trailer?

Max Weight: 150,000+ lbs. | Main Deck Length 29 ft.
| Well Width 8.5 ft. | Legal Height Limit 11.6 ft.

Max Weight: 48,000 lbs. | Max Length 53 ft.
| Max Width 8.5 ft. | Max Height 8.5 ft.
Max Weight: 48,000 lbs. Max Length 53 ft. |
Max Width 8.5 ft. | Max Height 11 ft.
Max Weight: 45,000 lbs. | Max Length 29 ft.
| Max Width 8.5 ft. | Max Height 11.5 ft.
When Shipping Equipment in Louisville, KY with Heavy Haulers;
When you choose Heavy Haulers, you're opting for quality. Plenty of fly-by-night operations want your transportation business. We are professional transporters who are in this for the long run. Our nationwide construction-equipment hauling company is:
● Experienced - More than 10 years transporting cargo in the U.S.;

● Double Insured - Carrier and Contingency, Just In Case;

● Professional - Fully Licensed, Bonded and Accredited;

● Efficient - We accept nearly all forms of payment, including cash.
Experience Shipping Heavy Equipment to / from Louisville, KY
Heavy Haulers specializes in hauling heavy loads such as construction equipment, oil field rigging and Super Loads. We are wideload experts! Heavy Haulers specializes in the heavy stuff! However - we can accommodate all types of equipment no matter the weight. Below you'll find some common pieces of equipment we've transported for the past 10+ years!
Common Equipment Heavy Haulers Transports
Trust Heavy Haulers to transport any brand of equipment you own. Most of our drivers are experienced heavy-machinery operators who can safely maneuver your loads aboard our trailers. Some of the brands we have shipped include: