Manchester New Hampshire Machinery Shipping Services with Heavy Haulers
Heavy Haulers Transport specializes in hauling overweight or Supersized equipment across North America, from the Southwest to New England, Canada to Mexico. Our drivers utilize trailers designed specifically for larger machinery or cargo weighing more than 25,000 pounds. We regularly travel New Hampshire along the always busy I-93 and I-293 through Manchester, Bakersville and Martin.
Ask Heavy Haulers to transport your machinery between Manchester, NH and any state in the nation, Canada and Mexico. Contact Heavy Haulers for FREE transport estimates at (800) 908-6206.
Our Recent Manchester, New Hampshire Shipments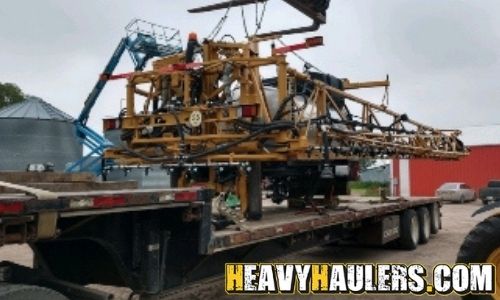 RG1100 Sprayer Booms Transported to Manchester
Origin: Winthrop, IA
Destination: Manchester, NH
Specs: 2013 RG1100 Sprayer Booms; 26L x 11W x 9H; 6000lbs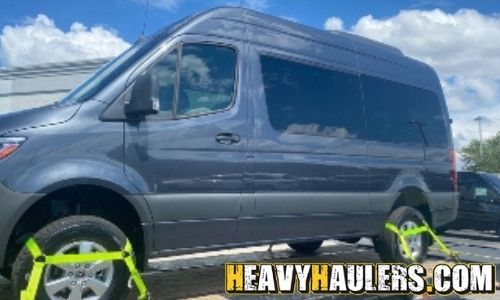 Shipping a Mercedes-Benz Sprinter Van to Manchester
Origin: Knoxville, TN
Destination: Manchester, NH
Specs: 2020 Mercedes-Bemz Sprinter Van; 26L x 8.5W x 10H; 14000lbs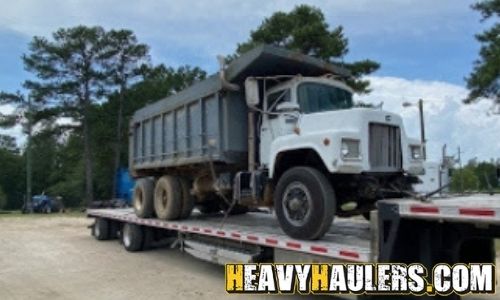 Transporting a Tandem R Model MACK dump truck to Manchester, NH
Origin: Milan, GA
Destination: Manchester, NH
Specs: Tandem R Model MACK dump truck; 25L x 8W x 10H; 24000lbs
Shipping Manufacturing Equipment in and around Manchester
At Heavy Haulers, our drivers are familiar with New Hampshire's transport laws, referencing state and local regulations when planning for the transport of your oversized equipment. We conduct our own road survey to investigate current road conditions and potential obstacles to an uneventful transport. We also secure the necessary permits to keep you from fines or citations. If you have any questions during the transport process you can follow your equipment through our convenient tracking program.
Manchester Shipping and Transportation Specs
Ports: Closest port is Portsmouth, NH

Airports: Manchester-Boston Regional Airport

Trailer length limit: 53' w/out permit semi-trailer, 48' on other roads. Length limits don't apply to vehicles transporting poles, pipes, logs, and steel beams.




SUPERLOAD DESIGNATION BEGINS WITH THE FOLLOWING DIMENSIONS

Weight: 70,000 lb (Tridem)

Width: 16'

Height: 16'

Length: 90'

Transport Restrictions: During Spring thaw weights may be limited to 20,000 gross axle weight. route survey may be required for 13'6" height or higher; escort required over 80' in length. No weekend or holiday travel for superload transport. Manchester travel is restricted during rush hour (7-9am and 3-6pm M-F).

Common Trailer Types: Removable Gooseneck, Drop-Deck, FlatBed

Common Transport Vehicle Types: Garbage Trucks, Transformers, Tow trucks
Heavy Haulers Can Ship your Oversized Manufacturing Equipment
Heavy Haulers is certified, accredited and insured to provide oversized transport throughout the United States, Canada and Mexico. We are insured with both contingency and carrier insurance to provide you the peace of mind you need. Give us a call at 1-(800) 908-6206 and request a consultation or a free shipping quote, or find out more about our services.
Looking For Transport
With a Specific Trailer?

Max Weight: 150,000+ lbs. | Main Deck Length 29 ft.
| Well Width 8.5 ft. | Legal Height Limit 11.6 ft.

Max Weight: 48,000 lbs. | Max Length 53 ft.
| Max Width 8.5 ft. | Max Height 8.5 ft.
Max Weight: 48,000 lbs. Max Length 53 ft. |
Max Width 8.5 ft. | Max Height 11 ft.
Max Weight: 45,000 lbs. | Max Length 29 ft.
| Max Width 8.5 ft. | Max Height 11.5 ft.
When Shipping Equipment in Manchester, NH with Heavy Haulers;
Heavy Haulers is one of the country's best at transporting supersized cargo or equipment. We have offices in Florida and Kentucky, as well as affiliates across the country. With both carrier and contingency insurance, we guarantee your equipment reaches its destination in pristine condition so you can focus on your business at hand. Our nationwide construction-equipment hauling company is:
● Experienced - More than 10 years transporting cargo in the U.S.;

● Double Insured - Carrier and Contingency, Just In Case;

● Professional - Fully Licensed, Bonded and Accredited;

● Efficient - We accept nearly all forms of payment, including cash.
Experienced Shipping Heavy Equipment to / from New Hampshire, NH
A company with more than ten years experience transporting farm equipment and manufacturing machinery across the country, Heavy Haulers is your best choice for hauling oversized cargo over long distances. We are headquartered in Burlington, Kentucky but have offices in many major cities across the United States. Call us at 1-(800) 908-6206 and request a free shipping quote. We look forward to working with you!
Common Equipment Heavy Haulers Transports
Trust Heavy Haulers to transport any brand of equipment you own. Most of our drivers are experienced heavy-machinery operators who can safely maneuver your loads aboard our trailers. Some of the brands we have shipped include: