Massachusetts Heavy Machinery Shipping Services
Heavy Haulers is your most reliable choice for shipping construction, agriculture heavy machinery and equipment throughout the U.S., Canada and Mexico. We're the premier shipper of construction equipment in the country. Heavy Haulers has years of freight-hauling and heavy-equipment shipping experience. Our courteous representatives are the most knowledgeable in the business. We offer door-to-door service, port-to-business transport and same-day loading. Call today for outstanding service, great rates and successful shipments!
Ask Heavy Haulers to transport your machinery between Massachusetts and any state in the nation, Canada and Mexico. Contact Heavy Haulers for FREE transport estimates at (800) 908-6206.
Heavy Haulers frequently rides the highways in Massachusetts. The main interstate roadways that cross the state include:
● I-84 - runs north/south from I-90 into Connecticut in the southern part of the state;

● I-90 - goes east/west across the southern portion of the state from New York to Boston;

● I-91 travels north/south through the western third of the state from New Hampshire to Connecticut;

● I-93 - runs north/south in the eastern part of the state, from New Hampshire to I-95 south of Boston;

● I-95 - travels north/south in the eastern part of the state from Maine to Connecticut.
Heavy Haulers can get your machinery shipped to every city in Massachusetts including:
Boston, MA; Worcester, MA; Springfield, MA; Lowell, MA; Cambridge, MA; Newton, MA; Fall River, MA; New Bedford, MA; Quincy, MA; Brockton, MA; Somerville, MA; Lawrence, MA; Framingham, MA; Haverhill, MA; Waltham, MA; Malden, MA; Plymouth, MA; Brookline, MA; Medford, MA; Weymouth Town, MA; Taunton, MA.
Transports Around the State of Massachusetts by Heavy Haulers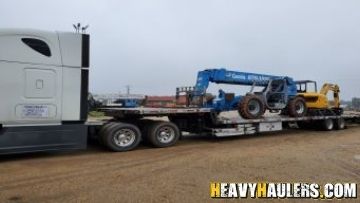 Shipping a Genie Telescopic Forklift from Massachusetts to Maryland
Origin: Boston, MA
Destination: Baltimore, MD
Specs: 2013 Genie Telescopic Forklift; 21L X 8W X 8.5H; 33,000lbs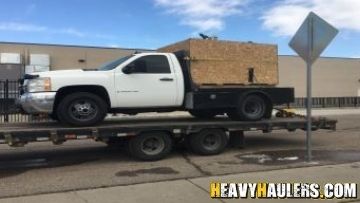 Transporting a flatbed truck with container from Louisiana to Massachusetts
Origin: Livingston, LA
Destination: Boston, MA
Specs: 2013 flatbed truck with container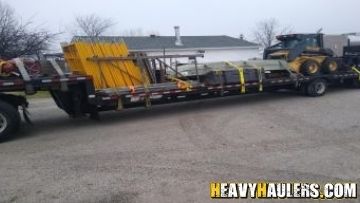 Shipping a Skid Steer Loader from Massachusetts
Origin: Boston, MA
Destination: Catersville, GA
Specs: Skid Loader L174; 22L X 10.8W X 11H; 40,000lbs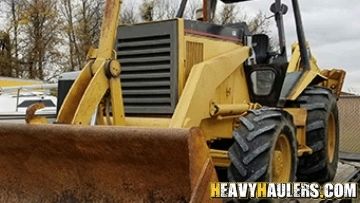 Transporting a Caterpillar Backhoe Loader from Massachusetts to New Hampshire
Heavy Haulers recently transported this Caterpillar 416C Backhoe Loader from Concord, Massachusetts to Sanbornville, New Hampshire. The transport was nearly 120 miles. Weight: 14,000 pounds. Length: 23 feet. Width: 8 feet. Height: 12 feet. To ship your Caterpillar backhoe anywhere you need it, talk directly to Brian at Heavy Haulers at: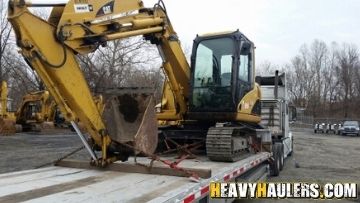 Hauling a Caterpillar Midi Excavator from Massachusetts to New York
Heavy Haulers recently shipped this Caterpillar 307C SB Midi Excavator nearly 700 miles on a step-deck trailer. The Excavator was picked up in Framingham, Massachusetts and dropped in Geneseo, New York a total of 399 miles. The driver was able to fit another piece of equipment on the load. The excavator weighed 18,500 pounds. It was 22-feet 5-inches long, 7-feet 5-inches wide and 9 feet tall. To haul your Caterpillar midi-excavator anywhere in the US, Canada or Mexico, speak with Mike at Heavy Haulers at: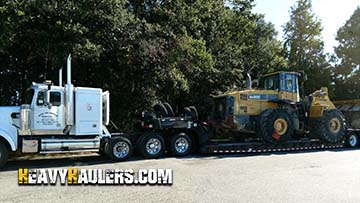 Transporting a Komatsu Wheel Loader from Lincoln, Massachusetts
One of our Senior Agents at Heavy Haulers, Travis Selochan, recently moved a Komatsu WA500-6 Wheel Loader that was 77000 lbs 32 ft long, 10.5 ft. wide and 12.4 ft high from Lincoln, Massachusetts to Miami, Florida for 1,488 miles. This move required permits for width, height, and over-weight. Travis was able to handle all the paperwork and transport the asset in a timely fashion while providing excellent customer service. Should you need assistance with anything please reach out to Travis directly at:
Looking For Transport
With a Specific Trailer?

Max Weight: 150,000+ lbs. | Main Deck Length 29 ft.
| Well Width 8.5 ft. | Legal Height Limit 11.6 ft.

Max Weight: 48,000 lbs. | Max Length 53 ft.
| Max Width 8.5 ft. | Max Height 8.5 ft.
Max Weight: 48,000 lbs. Max Length 53 ft. |
Max Width 8.5 ft. | Max Height 11 ft.
Max Weight: 45,000 lbs. | Max Length 29 ft.
| Max Width 8.5 ft. | Max Height 11.5 ft.
In Massachusetts and Looking for "Heavy Haul Transport Near Me"? We've Got You Covered!
Nicknamed The Pilgrim State, among other things, Massachusetts is known for being the landing place of the Mayflower. At Heavy Haulers we're here to handle all Massachusetts heavy equipment shipping needs. Whatever your oversize load transport needs, we're there to get it moved for you. When you need heavy machinery shipping "near me" make sure to give us a call! (800) 908-6206
Massachusetts Ports & Airports Heavy Haulers Transport To/From
Heavy Haulers reaches all ports in Massachusetts. The state operates commercial ports in Boston and New Bedford. Three other ports are now historic tourist spots, including:
● Port of Boston - Atlantic Ocean port on Massachusetts Bay;

● Port of New Bedford - Atlantic Ocean port on Buzzards Bay;

● Port of Sandwich - Atlantic Ocean port on Cape Cod Bay;

● Port of Provincetown - Atlantic Ocean port on Cape Cod;

● Port of Salem - Atlantic Ocean port on Salem Bay;
Heavy Haulers serves all airports in Massachusetts. Massachusetts has nearly 30 airports, including almost 20 general aviation airports and one international airport. The busiest airports in Massachusetts are:
● Boston - international airport;;

● Nantucket - primary airport;

● Hyannis - primary airport;

● Worcester - primary airport.
When Shipping Equipment in Massachusetts with Heavy Haulers;
When you choose Heavy Haulers, you're opting for quality. Plenty of fly-by-night operations want your transportation business. We are professional transporters who are in this for the long run. Our nationwide construction-equipment hauling company is:
● Experienced - More than 10 years transporting cargo in the U.S.;

● Double Insured - Carrier and Contingency, Just In Case;

● Professional - Fully Licensed, Bonded and Accredited;

● Efficient - We accept nearly all forms of payment, including cash.
Experience Shipping Heavy Equipment to Massachusetts
Heavy Haulers specializes in hauling heavy loads such as construction equipment, oil field rigging and Super Loads. We are wideload experts! Heavy Haulers specializes in the heavy stuff! However - we can accommodate all types of equipment no matter the weight. Below you'll find some common pieces of equipment we've transported for the past 10+ years!
Common Equipment Heavy Haulers Transports
Trust Heavy Haulers to transport any brand of equipment you own. Most of our drivers are experienced heavy-machinery operators who can safely maneuver your loads aboard our trailers. Some of the brands we have shipped include:
Caterpillar

Komatsu

Hitachi

Volvo

Terex

Liebherr

John Deere

New Holland

CASE

Bobcat

Hyundai

JCB

Kubota

Kobelco
Oshkosh

Allis Chalmers

Toro

Kobelco

JLG

Roadtec

Takeuchi

Genie

Telsmith

Doosan

Gradall

Atlas Copco

Ditch Witch

Huskvarna
Heavy Haulers Also Ships Heavy Equipment in The Following Cities:
Chicopee, MA; Peabody, MA; Methuen Town, MA; Everett, MA; Barnstable Town, MA; Attleboro, MA; Arlington, MA; Salem, MA; Pittsfield, MA; Leominster, MA; Beverly, MA; Billerica, MA; Fitchburg, MA; Marlborough, MA; Woburn, MA; Westfield, MA; Chelsea, MA; Amherst, MA; Braintree Town, MA; Shrewsbury, MA; Holyoke, MA; Natick, MA; Andover, MA; Chelmsford, MA; Watertown Town, MA; Randolph Town, MA; Lexington, MA; Dartmouth, MA; Franklin Town, MA; Dracut, MA; Falmouth, MA; Needham, MA; Norwood, MA; Tewksbury, MA; North Andover, MA; Milford, MA; Melrose, MA; Gloucester, MA; Northampton, MA; Wellesley, MA; Stoughton, MA; North Attleborough, MA; West Springfield Town, MA; Agawam Town, MA; Bridgewater Town, MA; Milton, MA; Saugus, MA; Danvers, MA; Belmont, MA; Wakefield, MA;