Milwaukee, Wisconsin Equipment and Machinery Transportation Services
Heavy Haulers transports heavy machinery through and around Milwaukee on a regular basis. As one of the most prolific "super load" transport companies in the country, we are your best choice for moving large equipment to or from anywhere in the United States as well as Canada and Mexico. With our experienced drivers and unwavering commitment, you can rest assured your new inventory will reach you in pristine condition.
Ask Heavy Haulers to transport your machinery between Milwaukee, Wisconsin and any state in the nation, Canada and Mexico. Contact Heavy Haulers for FREE transport estimates at (800) 908-6206.
Recent Transports Heavy Haulers has taken to/from Milwaukee, WI Heavy Haulers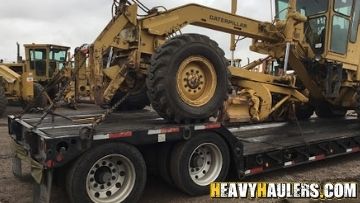 Shipping a 140G Motor Grader from Longmont to Milwaukee
After many years in this industry Brian G. at Heavy Haulers can get any freight you need transported/hauled anywhere in the United States, Mexico or Canada. Heavy Haulers will schedule your load to be picked up and delivered in a proper time frame. This is a 28 ft. long, 8 ft. wide, 11 ft. 1 in. high, 29k lbs. 1986 Caterpillar 140G Motor Grader that was transported from Longmont, CO to Milwaukee, WI. If you are looking to transport any freight call Brian G. today: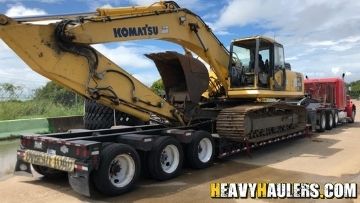 Transporting a PC300 Excavator from Wisconsin to Texas
Trust in the professionals at Heavy Haulers to haul your next Komatsu PC300 Excavator. Willam Thomas at Heavy Haulers is prepared to get your load on the road. This 1995 Komatsu Excavator was oversize and did require permits to transport. Willam Thomas was able to handle all the paperwork on the clients behalf for this Wisconsin to Texas load. Call Willam Thomas at Heavy Haulers today to get the excellent service Heavy Haulers provides!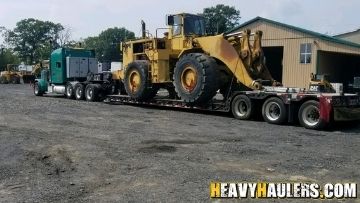 Hauling a Wheel Loader to Milwaukee, WI
Let the professionals at Heavy Haulers get your freight on a trailer! This is a Caterpillar 988B Wheel Loader Tye Forte at Heavy Haulers recently shipped for a client. This Caterpillar Wheel Loader was picked up in Pittston, PA and delivered approximately 780 miles away in Milwaukee, WI. This Caterpillar Wheel Loader was oversize and did require permits for shipment. Call Tye Forte at Heavy Haulers to get your next oversize shipment on the road!
Shipping Forestry Machinery in and around Milwaukee
Nestled in the middle of the country, Milwaukee is often traveled by our skilled heavy haul drivers. They have a thorough knowledge of Wisconsin's transport regulations and regularly move along Interstate 43 and I-94 through West Allis, Glendale and Whitefish Bay. They can help your company avoid potential fines by obtaining local permits, producing the correct signage and bypassing construction zones.
Milwaukee, Wisconsin Transport Specifications
Airports: General Mitchell International Airport, Timmerman Airport

Ports: Port of Milwaukee

Trailer length limit: 75' overall length without permit, 48' semi-trailer. The permit has no length limit and the height limit depends on routes.




Super Load designation starts at:

Weight: 150,000lbs gross

Width: 16'

Height: Depends on route

Transport Restrictions: Farm equipment that goes to a Wisconsin destination does not need a permit if it won't be on the Interstate, but can only run Monday-Thursday and Friday up until 2pm. Spring thaw restrictions go into effect in early March and least through mid-May for overweight loads. During the summer there is no darkness traveling (4pm-11pm).

Common Wisconsin Trailer Types: Removable Goose-neck (RGN) trailer, Drop deck Trailer, Low Boy Trailer

Common Large Equipment in Wyoming: Fuel Truck, Semi-trailers, Plow
Transporting Bulky Machinery with the Oversized Authorities
More than a decade of experience in oversized shipping makes Heavy Haulers your best choice for shipping newly acquired inventory to your place of business. Though we specialize in "superload" equipment, we can transport cargo of any weight or dimension. We carry double the insurance required to provide you the peace of mind and offer tracking services so you can keep up with where your vehicle is during its trip home. Call Heavy Haulers to see how we can help you with the transport of your important equipment and take your business to the next level. We provide a free shipping quote and consultation and guarantee your final satisfaction. Call today!
Looking For Transport
With a Specific Trailer?

Max Weight: 150,000+ lbs. | Main Deck Length 29 ft.
| Well Width 8.5 ft. | Legal Height Limit 11.6 ft.

Max Weight: 48,000 lbs. | Max Length 53 ft.
| Max Width 8.5 ft. | Max Height 8.5 ft.
Max Weight: 48,000 lbs. Max Length 53 ft. |
Max Width 8.5 ft. | Max Height 11 ft.
Max Weight: 45,000 lbs. | Max Length 29 ft.
| Max Width 8.5 ft. | Max Height 11.5 ft.
When Shipping Equipment in Milwaukee, WI with Heavy Haulers;
When you choose Heavy Haulers, you're opting for quality. Plenty of fly-by-night operations want your transportation business. We are professional transporters who are in this for the long run. Our nationwide construction-equipment hauling company is:
● Experienced - More than 10 years transporting cargo in the U.S.;

● Double Insured - Carrier and Contingency, Just In Case;

● Professional - Fully Licensed, Bonded and Accredited;

● Efficient - We accept nearly all forms of payment, including cash.
Experience Shipping Heavy Equipment to / from Milwaukee, WI
Heavy Haulers specializes in hauling heavy loads such as construction equipment, oil field rigging and Super Loads. We are wideload experts! Heavy Haulers specializes in the heavy stuff! However - we can accommodate all types of equipment no matter the weight. Below you'll find some common pieces of equipment we've transported for the past 10+ years!
Common Equipment Heavy Haulers Transports
Trust Heavy Haulers to transport any brand of equipment you own. Most of our drivers are experienced heavy-machinery operators who can safely maneuver your loads aboard our trailers. Some of the brands we have shipped include: