Heavy Haulers Equipment Shipping Services For New Orleans, Louisiana
Heavy Haulers is the country's premiere transport company. We specialize in shipping "super load" vehicles across the United States, Mexico and Canada, from Florida to Washington state and everywhere in between, including Louisiana and New Orleans, its largest city. Our professional drivers use specialty trailers like the Low-Boy and RGN to haul equipment and machinery that often weighs more than 20,000 pounds. We regularly travel through the southern United States, including New Orleans, Lafayette and Baton Rouge.
Ask Heavy Haulers to transport your machinery between New Orleans, LA and any state in the nation, Canada and Mexico. Contact Heavy Haulers for FREE transport estimates at (800) 908-6206.
Our Recent New Orleans, Louisiana Shipments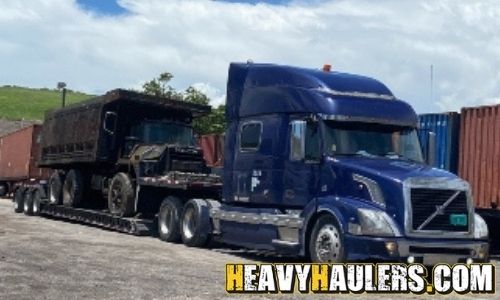 Hauling a MACK RD690S Dump Truck to New Orleans
Shipping From: Sutton, WV

Transporting To: New Orleans, LA

Specs: 1991 MACK RD690S; 26.5L x 8.5W x 11.6H; 38000lbs

Transport Specialist: Daniel J.
(754) 704-9202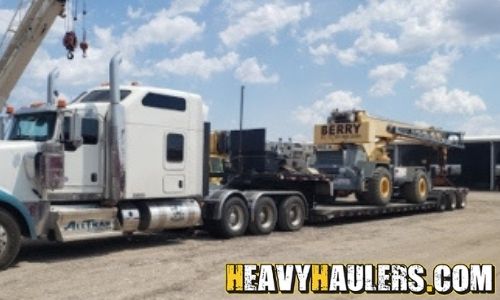 Shipping a Koehring RT230 crane from Corpus Christi, TX to New Orleans, LA
Shipping From: Corpus Christi, TX

Transporting To: New Orleans, LA

Specs:1997 Koehring RT230 crane; 38L x 9W x 11.7H; 60000lbs

Transport Specialist: Jay H.
(561) 562-4968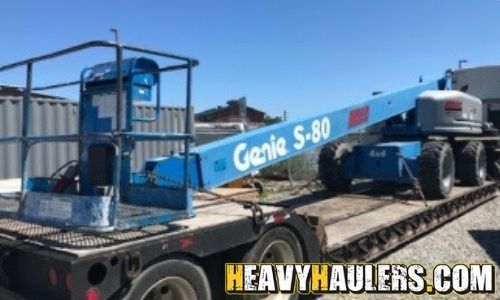 Hauling a Genie S-80 Boom Lift to New Orleans
Shipping From: Weymouth, MA

Transporting To: New Orleans, LA

Specs: Genie S-80 boom lift; 36L x 8.2W x 8.2H; 37000lbs

Transport Specialist: Jimmy T.
(954) 475-6249
Shipping Oil Rigging Equipment around New Orleans
Heavy Haulers drivers refer to Louisiana's interstate/intrastate transport regulations when choosing a route for your oversized equipment. We survey road conditions along I-12, Us 46 and the ever-busy I-10, monitoring road conditions and construction zones. We also secure the proper permits and use weather data and current laws to maneuver our way around metropolitan New Orleans. One of the benefits of using our service is the ability to track the progress of your machinery as it travels to its final destination.
New Orleans Shipping and Transportation Specs
Airports: Louis Armstrong New Orleans International Airport, Lakefront Airport

Trailer length limit: 59'6" on Interstate/designated highways, 65' truck + trailer on other highways, under 125' with permit




SUPERLOAD DESIGNATION BEGINS WITH THE FOLLOWING DIMENSIONS

Weight: GVW greater than 254,000; overweight designation at 88,000 lbs

Width: 18'

Height: 16'5"

Length: 125'

Transport Restrictions: Permit loads cannot cross bridges over Mississippi River or be 2 miles within bridges from 6:30am-9:00 am and 3:30 pm-6:00pm M-F. Loads over 12' wide are not permitted on interstate system between 7:00am-9:00am and 3:30am-5:00pm M-F. No travel on holidays and during Mardi Gras in some areas. Daylight hours only.

Common Transport Equipment: Rigging/Millright equipment, cranes, drilling
Heavy Haulers Can Ship your Oversized Manufacturing Equipment
Heavy Haulers is certified, accredited and insured to provide oversized transport throughout the United States, Canada and Mexico. We are insured with both contingency and carrier insurance to provide you the peace of mind you need. Give us a call at 1-(800) 908-6206 and request a consultation or a free shipping quote, or find out more about our services.
Common Trailer Types Available from Heavy Haulers
Heavy Haulers specializes in hauling heavy loads such as construction equipment, oil field rigging and Super Loads. We are wideload experts! We offer an extensive range of trailer choices, including:
Max Weight: 48,000 lbs. | Max Length 53 ft. | Max Width 8.5 ft. | Max Height 11 ft.




Max Weight: 45,000 lbs. | Max Length 29 ft. | Max Width 8.5 ft. | Max Height 11.5 ft.
Max Weight: 150,000+ lbs. | Main Deck Length 29 ft. | Well Width 8.5 ft. | Legal Height Limit 11.6 ft.




Max Weight: 48,000 lbs. | Max Length 53 ft. | Max Width 8.5 ft. | Max Height 8.5 ft.
When Shipping Equipment in New Orleans, LA with Heavy Haulers;
Heavy Haulers has more than a decade of experience towing/transporting oversized vehicles cross-country, making us the best choice for an efficient, timely delivery. We know the shipping industry; better, we know the value of good service and take care of our customers with the same commitment and thorough planning we do with our own families. Our nationwide construction-equipment hauling company is:
● Experienced - More than 10 years transporting cargo in the U.S.;

● Double Insured - Carrier and Contingency, Just In Case;

● Professional - Fully Licensed, Bonded and Accredited;

● Efficient - We accept nearly all forms of payment, including cash.
Experience Shipping Heavy Equipment to / from New Orleans, LA
Heavy Haulers is doubly insured with contingency and carrier coverage and are accredited members of the Better Business Bureau. Give us a call and find out more about how we can help you transport your new vehicle. You can request a free shipping quote or make an appointment for a consultation. We look forward to talking to you!
Common Equipment Heavy Haulers Transports
Trust Heavy Haulers to transport any brand of equipment you own. Most of our drivers are experienced heavy-machinery operators who can safely maneuver your loads aboard our trailers. Some of the brands we have shipped include: