Heavy Haulers Knows No Limit of Transport in Oklahoma City!
Heavy Haulers Transport specializes in towing "SuperLoad" and over-dimension equipment across the United States, Canada and Mexico. At the center of the country. Oklahoma City is one of the most often-traveled cities of the region, along with Yukon, Weatherford and Shawnee. Our skilled drivers keep abreast of the traffic patterns and construction zones of crucial thoroughfares such as I-40 and Interstate 44.
Ask Heavy Haulers to transport your machinery between Oklahoma City, Oklahoma and any state in the nation, Canada and Mexico. Contact Heavy Haulers for FREE transport estimates at (800) 908-6206.
Our Recent Oklahoma City, Oklahoma Shipments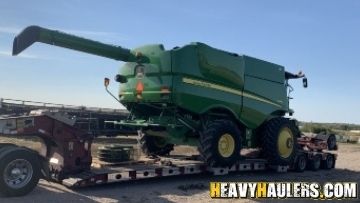 Transporting a John Deere S680 Combine to Oklahoma City
Origin: Ogallala, NE
Destination: Oklahoma City, OK
Specs: 2013 John Deere S680 combine; 39L x 13W x 13H; 37500lbs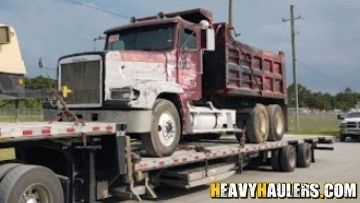 Oklahoma City Transport: Freightliner FLD120 Dump Truck
Origin: Humble, TX
Destination: Oklahoma City, OK
Specs: 1989 Freightliner FLD120 Dump Truck; 28L x 8.5W x 10H; 24000lbs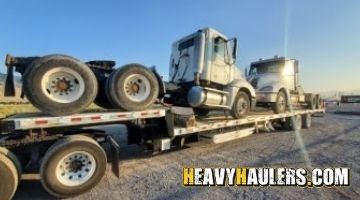 Hauling a freightliner Columbia Day Cab from Oklahoma City to Kansas City
Origin: Oklahoma City, OK
Destination: Kansas City, KS
Specs: 2007 Freighliner Columbia Day Cab; 53L x 8W x 10H; 36000lbs
Shipping Heavy Equipment in and around Oklahoma City
In order to transport oversized vehicles or machinery effectively, drivers have to utilize the right equipment and obtain a collection of permits to travel legally through the state. Our drivers make themselves experts in local regulations and carefully plan a route of travel that avoids the snarls of construction traffic and congestion so that you get your equipment as quickly as possible.
Oklahoma City Shipping and Transport Specs
Airports: Clarence E Page Muni Airport, Wiley Post, Will Rogers World Airport, Tinker AFB

Trailer length limit w/o Permit: 59'6" on Interstate and U.S. Highways, 53' on other routes.




SUPERLOAD DESIGNATION BEGINS WITH THE FOLLOWING DIMENSTIONS

Weight: 90,000 lbs gross

Width: 16'

Height: Depends on the route

Length: no set maximum

Transport Restrictions: Cargo that is only overweight can travel freely; other oversized loads cannot travel on Interstate during rush hour (7-9am and 3:30-6:30pm M-F). No permit travel is allowed on major holidays. Maximum weight for Cherokee Turnpike is 108,000lb. Pike Pass is needed for over-width loads on the turnpike.

Common Oklahoma Trailer Types: Extended Removable GooseNeck Trailers, Flatbed trailers, Step Deck trailers

Common Transport Equipment: Oil field rigs, logging trucks, Street sweepers
Hauling Heavy Equipment for your Company
With more than ten years of experience hauling oversized equipment, Heavy Haulers has the expertise your business needs to stay on top of the competition. We are accredited members of the BBB and the Transportation Intermediaries Association (TIA) and are licensed with the Federal Motor Carrier Safety Administration. Protect your valuable investment by trusting the heavy hauling authorities. Give us a call today at # and request a free shipping quote. We want to be your heavy haulers!
Looking For Transport
With a Specific Trailer?

Max Weight: 150,000+ lbs. | Main Deck Length 29 ft.
| Well Width 8.5 ft. | Legal Height Limit 11.6 ft.

Max Weight: 48,000 lbs. | Max Length 53 ft.
| Max Width 8.5 ft. | Max Height 8.5 ft.
Max Weight: 48,000 lbs. Max Length 53 ft. |
Max Width 8.5 ft. | Max Height 11 ft.
Max Weight: 45,000 lbs. | Max Length 29 ft.
| Max Width 8.5 ft. | Max Height 11.5 ft.
When Shipping Equipment in Oklahoma City, Oklahoma with Heavy Haulers;
When you choose Heavy Haulers, you're opting for quality. Plenty of fly-by-night operations want your transportation business. We are professional transporters who are in this for the long run. Our nationwide construction-equipment hauling company is:
● Experienced - More than 10 years transporting cargo in the U.S.;

● Double Insured - Carrier and Contingency, Just In Case;

● Professional - Fully Licensed, Bonded and Accredited;

● Efficient - We accept nearly all forms of payment, including cash.
Experience Shipping Heavy Equipment to / from Oklahoma City, Oklahoma
Heavy Haulers specializes in hauling heavy loads such as construction equipment, oil field rigging and Super Loads. We are wideload experts! Heavy Haulers specializes in the heavy stuff! However - we can accommodate all types of equipment no matter the weight. Below you'll find some common pieces of equipment we've transported for the past 10+ years!
Common Equipment Heavy Haulers Transports
Trust Heavy Haulers to transport any brand of equipment you own. Most of our drivers are experienced heavy-machinery operators who can safely maneuver your loads aboard our trailers. Some of the brands we have shipped include: