Ship Your Heavy Loads With An Experienced Omaha Nebraska Hauling Company!
When the time comes to ship your heavy machinery to or from Omaha, Nebraska or neighboring cities like Council Bluffs and Papillion. Heavy Haulers guarantees your equipment's safe delivery without the inconvenience and cost of hiring planners and legal professionals. Our drivers are all trained in logistics and Transport Law, so they know how to get your vehicle where it needs to be without costing you an arm and a leg in legal fees.
Ask Heavy Haulers to transport your machinery between Omaha, NE and any state in the nation, Canada and Mexico. Contact Heavy Haulers for FREE transport estimates at (800) 908-6206.
Our Recent Omaha, Nebraska Shipments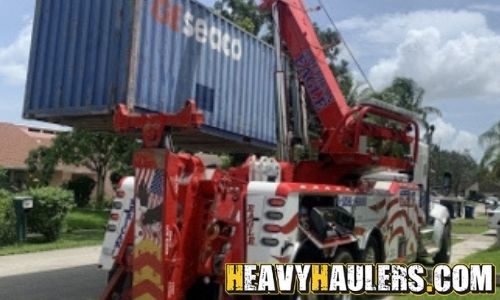 Shipping a 40 Ft. Container to Omaha, NE
Origin: Mariposa, CA
Destination: Omaha, NE
Specs: 40 ft. container; 40L x 8W x 8H; 40000lbs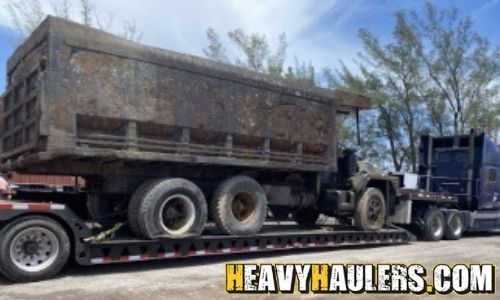 Hauling a MACK RD690S Dump Truck from Omaha to Pompano Beach
Origin: Omaha, NE
Destination: Pompano Beach, FL
Specs: 1991 MACK RD690S Dump Truck; 26.5L x 8.5W x 11.6H; 38000lbs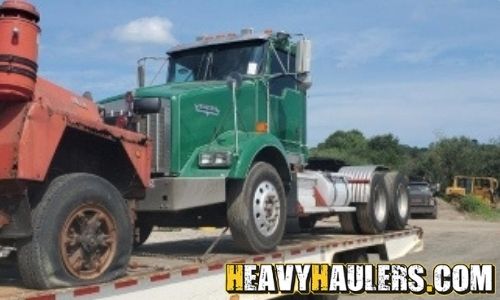 Kenworth T800 daycab transported to Omaha, NE
Origin: Dighton, MA
Destination: Omaha, NE
Specs: 2008 Kenworth t800 daycab; 26L x 8W x 10H; 18000lbs
Legal Restrictions of Heavy Hauling through Omaha
Let Heavy Haulers take responsibility for obtaining the proper paperwork and permits to get your equipment safely across the United States, Canada and Mexico. Our drivers are doubly insured and plan for a number of traffic and weather conditions. If you want, you can even track the progress of your cargo while it makes its journey to its final destination. You'll see how much work goes into guaranteeing your satisfaction.
Omaha, NE Hauling and Transport Specs
Airports: Eppley Airfield, Millard Airport

Trailer length limit: 53' trailer length (does not apply to construction hauls, utility poles, beams and pipes)




SUPERLOAD DESIGNATION BEGINS WITH THE FOLLOWING DIMENSIONS

Weight: over 150,000 lb gross

Width: 16'

Height: 16'

Length: 100'

Transport Restrictions: Omaha state highway travel is restricted between rush hour (7-9am, 4-6pm), on Interstate or 4-lane divided highways, light bar can replace escort if stated on permit. Over 90' in length requires at least one escort (usually). Traveling near Lincoln during football season, drivers will run into restricted travel on I-80 during Saturday home games.

Common Trailer Types: Removable Goose-neck Trailer, Low Boy, Step-Deck Trailer

Common Transport Vehicle Types: Construction Lifts, Motor Graders, Wheel Loaders
Heavy Haulers Can Ship your Oversized Manufacturing Equipment
Heavy Haulers is certified, accredited and insured to provide oversized transport throughout the United States, Canada and Mexico. We are insured with both contingency and carrier insurance to provide you the peace of mind you need. Give us a call at 1-(800) 908-6206 and request a consultation or a free shipping quote, or find out more about our services.
Looking For Transport
With a Specific Trailer?

Max Weight: 150,000+ lbs. | Main Deck Length 29 ft.
| Well Width 8.5 ft. | Legal Height Limit 11.6 ft.

Max Weight: 48,000 lbs. | Max Length 53 ft.
| Max Width 8.5 ft. | Max Height 8.5 ft.
Max Weight: 48,000 lbs. Max Length 53 ft. |
Max Width 8.5 ft. | Max Height 11 ft.
Max Weight: 45,000 lbs. | Max Length 29 ft.
| Max Width 8.5 ft. | Max Height 11.5 ft.
When Shipping Equipment in Omaha, NE with Heavy Haulers;
Heavy Haulers is one of the country's best at transporting supersized cargo or equipment. We have offices in Florida and Kentucky, as well as affiliates across the country. With both carrier and contingency insurance, we guarantee your equipment reaches its destination in pristine condition so you can focus on your business at hand. Our nationwide construction-equipment hauling company is:
● Experienced - More than 10 years transporting cargo in the U.S.;

● Double Insured - Carrier and Contingency, Just In Case;

● Professional - Fully Licensed, Bonded and Accredited;

● Efficient - We accept nearly all forms of payment, including cash.
Heavy Haulers Transports through Omaha to/from all 50 states
Heavy Haulers is America's premiere heavy-load transport company. We have 10+ years of experience in the towing/shipping/hauling industry and are proud members of the Better Business Bureau as well as the Transportation Intermediaries Association (TIA). Our goal is to make your hauling experience one you want to repeat. Give us a call at 1-(800) 908-6206 and see how we can help you increase the visibility of your company.
Common Equipment Heavy Haulers Transports
Trust Heavy Haulers to transport any brand of equipment you own. Most of our drivers are experienced heavy-machinery operators who can safely maneuver your loads aboard our trailers. Some of the brands we have shipped include: