Need Equipment Shipping Services in Philadelphia, Pennsylvania?
All you have to do is pick up your telephone and reach an eperienced shipping agent at the other end of (800) 908-6206. Heavy Haulers is an experienced and still growing business. One of the indicators of a company's success is growth. Buying new equipment to help expand your Philadelphia, Pennsylvania business is a great way to increase your bottom line; it can also be fraught with difficulty when you realize that oversized equipment has to be transported to your place of business. That's when it's time to contact Heavy Haulers. We can deliver your overweight/over-dimension equipment safely and affordably across the United States, Canada and Mexico.
Ask Heavy Haulers to transport your machinery between Philadelphia, Pennsylvania and any state in the nation, Canada and Mexico. Contact Heavy Haulers for FREE transport estimates at (800) 908-6206.
Recent Transports heavy Haulers has taken to/from Philadelphia, PA Heavy Haulers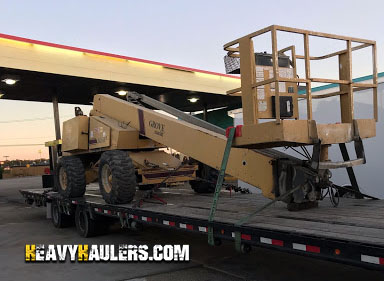 Shipping 1988 Grove MZ66B manlift from Philadelphia to Lakeville
Last month John Shanley at Heavy Haulers obtained an order from a client to ship a 1988 Grove MZ66B manlift (32 ft. L, 8 ft. W, 8 ft. H, 21,000 LBS) from Princeton, WV to Summerhill, PA (318 Miles). After speaking to this client John Shanley immediately started working on percurring a trailer for this load. Only after 2 hours a carrier was dispatched and this load was picked up the same day! Let the professionals at Heavy Haulers get your load on a trailer today by calling John Shanley!
Transporting a Truck from Carlisle to Philadelphia
Willam Thomas at Heavy Haulers recently transported this 2007 Freightliner for a repeat client. This 2007 Freightliner Truck was picked up in near Philadelphia, PA and delivered to Philadelphia, PA. Willam Thomas at Heavy Haulers was able to handle all of the paperwork! This 2007 Freightliner was 20 feet long, 8 feet 4 inches wide, 10 feet high and weighed approximately 17,000 pounds. Call Willam Thomas at Heavy Haulers to get your Truck transported!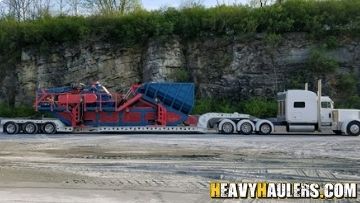 Hauling Crushing Machine
Heavy Haulers recently shipped these 2 International 7300 trucks. These International trucks were picked up in Philadelphia, PA and delivered to their final destination in Orlando, FL. Each one of these International trucks were 18,000 pounds and 8 feet 6 inches tall. Let Heavy Haulers get your next load of trucks on to a trailer today. Call Mike Phillips at Heavy Haulers today to get more information on our truck transportation:
Shipping your Steelworker's Equipment to or from Philadelphia
Drivers at Heavy Haulers are experienced haulers with skills in logistics and planning, so you can rest easy in knowing your vital piece of equipment is being brought to you using the best route possible. We have extensive knowledge of the roadways around Philadelphia, including I-95, Interstate 676 (the Vine Street Expressway) and the new Schuylkill Express. You even have the option to track your equipment as it travels to your place of business.
Pennsylvania Hauling and Transport Specs
Airports: Philadelphia International Airport, Wilmington-Philadelphia Airport

Ports: PhilaPort

Trailer length limit: 120'; 160' on 4-lane roads




SUPERLOAD DESIGNATION BEGINS WITH THE FOLLOWING DIMENSTIONS

Weight: 201,000 lbs gross

Width: 17'

Height: 14'7"

Length: over 160'

Transport Restrictions: Oversized loads are restricted to daylight travel unless their over-dimension only deals with weight. A permit is required to travel in Philadelphia unless the driver sticks to the Interstate. The Pennsylvania Turnpike requires advance permit and usually requires a pilot car.

Common Pennsylvania Trailer Types: Removable Gooseneck (RGN), Flatbed, Drop-Deck

Common Transport Equipment: Coal Trucks, Cranes, Refuse Truck
Heavy Vehicle Hauling for your Business
Heavy Haulers Transport is your best choice for "Superload" shipping. We have more than a decade of experience in the shipping industry and the credentials to match. As accredited members of the Better Business Bureau and the Transportation Intermediaries Association (TIA), you can trust us with your shipping project no matter the size or delivery destination. We also carry double insurance--both carrier and contingency--to ensure the safety of your precious cargo. Give us a call today at 1-(800) 908-6206 and let us know how we can help you.
Looking For Transport
With a Specific Trailer?

Max Weight: 150,000+ lbs. | Main Deck Length 29 ft.
| Well Width 8.5 ft. | Legal Height Limit 11.6 ft.

Max Weight: 48,000 lbs. | Max Length 53 ft.
| Max Width 8.5 ft. | Max Height 8.5 ft.
Max Weight: 48,000 lbs. Max Length 53 ft. |
Max Width 8.5 ft. | Max Height 11 ft.
Max Weight: 45,000 lbs. | Max Length 29 ft.
| Max Width 8.5 ft. | Max Height 11.5 ft.
When Shipping Equipment in Philadelphia, Pennsylvania with Heavy Haulers;
When you choose Heavy Haulers, you're opting for quality. Plenty of fly-by-night operations want your transportation business. We are professional transporters who are in this for the long run. Our nationwide construction-equipment hauling company is:
● Experienced - More than 10 years transporting cargo in the U.S.;

● Double Insured - Carrier and Contingency, Just In Case;

● Professional - Fully Licensed, Bonded and Accredited;

● Efficient - We accept nearly all forms of payment, including cash.
Experience Shipping Heavy Equipment to / from Philadelphia, Pennsylvania
Heavy Haulers specializes in hauling heavy loads such as construction equipment, oil field rigging and Super Loads. We are wideload experts! Heavy Haulers specializes in the heavy stuff! However - we can accommodate all types of equipment no matter the weight. Below you'll find some common pieces of equipment we've transported for the past 10+ years!
Common Equipment Heavy Haulers Transports
Trust Heavy Haulers to transport any brand of equipment you own. Most of our drivers are experienced heavy-machinery operators who can safely maneuver your loads aboard our trailers. Some of the brands we have shipped include: