Heavy Haulers Equipment Shipping Services For Portland, Maine
When it's time to move your new super-load vehicles to or from Portland, Maine, Heavy Haulers is the company to call to avoid the hassle and expense of standard transport companies. Our drivers are familiar with the regulations governing travel through New England as well as the rest of the country, from Florida to Washington. We have a regular presence on the roads around Portland, zipping over the convoluted interchange system of the region, including I-295 and U.S. 1.
Ask Heavy Haulers to transport your machinery between Portland, me and any state in the nation, Canada and Mexico. Contact Heavy Haulers for FREE transport estimates at (800) 908-6206.
Our Recent Portland, Maine Shipments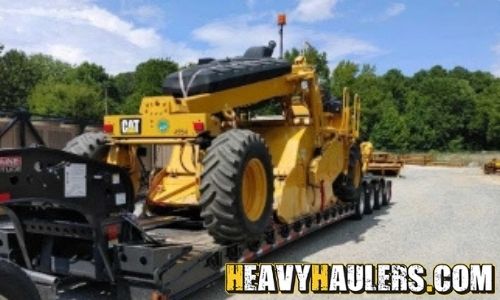 Transporting a CAT RM300 road reclaimer to Portland
Origin: Williamsburg, VA
Destination: Portland, ME
Specs: 2014 CAT RM300 Road Reclaimer; 32L x 9W x 11H; 54000lbs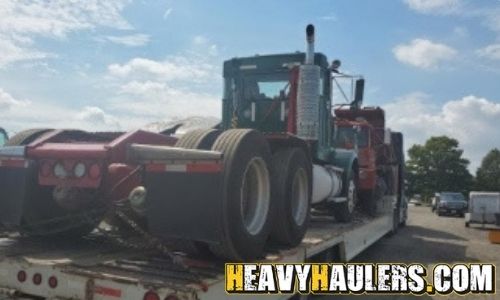 Portland Transport: Kenworth T800 daycab
Origin: Dighton, MA
Destination: Portland, ME
Specs: 2008 Kenworth t800 daycab; 26L x 8W x 10H; 18000lbs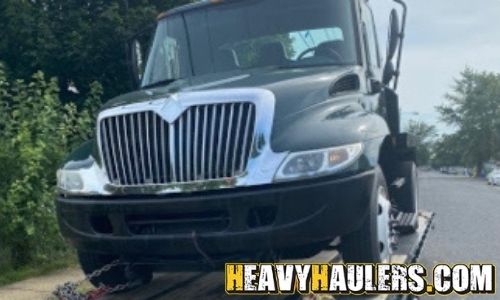 Hauling an international flatbed truck from Portland to Houston
Origin: Portland, ME
Destination: Houston, TX
Specs: 2003 international flatbed truck; 19L x 8W x 7.9H; 9500lbs
Towing Heavy Equipment through Maine
Drivers for Heavy Haulers have the experience in logistics and planning to deliver your heavy machinery under a wide range of conditions. Weather forecasts, news reports and knowledge of Portland and the area's permit requirements help to keep us at the top of the transport industry. Though our specialization is in oversized or "super load" equipment, we can haul your important vehicle whatever its size and wherever you have a need.
Portland Shipping and Transportation Specs
Ports: Port of Portland

Airports: Portland International Jetport

Trailer length limit w/out permit: 53' semi-trailer, 74' overall




SUPERLOAD DESIGNATION BEGINS WITH THE FOLLOWING DIMENSIONS

Weight: 100,000 lb

Width: 16'

Height: 16'

Length: 125'

Transport Restrictions: Oversized loads cannot travel on the turnpike on Friday afternoon, Saturday or Sunday, no travel during weekends in July and August, 1/2 hour rule applies otherwise (7 days a week).

Common Trailer Types: Drop Deck Trailer, RGN, Flatbed Trailer

Common Transport Vehicle Types: Logging trucks, Cement Trucks, Tow trucks
Heavy Haulers Can Ship your Oversized Manufacturing Equipment
Heavy Haulers is certified, accredited and insured to provide oversized transport throughout the United States, Canada and Mexico. We are insured with both contingency and carrier insurance to provide you the peace of mind you need. Give us a call at 1-(800) 908-6206 and request a consultation or a free shipping quote, or find out more about our services.
Looking For Transport
With a Specific Trailer?

Max Weight: 150,000+ lbs. | Main Deck Length 29 ft.
| Well Width 8.5 ft. | Legal Height Limit 11.6 ft.

Max Weight: 48,000 lbs. | Max Length 53 ft.
| Max Width 8.5 ft. | Max Height 8.5 ft.
Max Weight: 48,000 lbs. Max Length 53 ft. |
Max Width 8.5 ft. | Max Height 11 ft.
Max Weight: 45,000 lbs. | Max Length 29 ft.
| Max Width 8.5 ft. | Max Height 11.5 ft.
When Shipping Equipment in Portland, ME with Heavy Haulers;
The country's premiere "Super Load" hauling company, Heavy Haulers is headquartered in Burlington, Kentucky, but has offices in Ft. Lauderdale and around Florida. Our hauling projects span the country and include vehicles used in a variety of industries, from logging to transportation and manufacturing. Drivers are double-insured with contingency and carrier insurance and are licensed and bonded to give you the peace of mind in knowing that your new machine is being handled by professionals. Our nationwide construction-equipment hauling company is:
● Experienced - More than 10 years transporting cargo in the U.S.;

● Double Insured - Carrier and Contingency, Just In Case;

● Professional - Fully Licensed, Bonded and Accredited;

● Efficient - We accept nearly all forms of payment, including cash.
Experience Shipping Heavy Equipment to / from Portland Maine
Heavy Haulers is doubly insured with contingency and carrier coverage and are accredited members of the Better Business Bureau. Give us a call and find out more about how we can help you transport your new vehicle. For more information or to request a free shipping quote, give Heavy Haulers a call at #(800) 908-6206. We look forward to working with you!
Common Equipment Heavy Haulers Transports
Trust Heavy Haulers to transport any brand of equipment you own. Most of our drivers are experienced heavy-machinery operators who can safely maneuver your loads aboard our trailers. Some of the brands we have shipped include: