Heavy Haulers is the Providence, RI Equipment Shipping Company you Need!
Heavy Haulers Transport is one of the premiere "super-load" hauling companies in the nation, providing Providence, Rhode Island business owners the opportunity to ship their large equipment and vehicles across the United States, Canada and Mexico. We travel regularly through Providence County, including the cities of Pawtucket, Providence and Cranston. Drivers are experienced in using specialized trailers to tow heavy equipment; in particular, the Low Boy and Step-Deck trailer help to move unwieldy cargo.
Ask Heavy Haulers to transport your machinery between Providence, Rhode Island and any state in the nation, Canada and Mexico. Contact Heavy Haulers for FREE transport estimates at (800) 908-6206.
Recent Transports heavy Haulers has taken to/from Providence, Rhode Island Heavy Haulers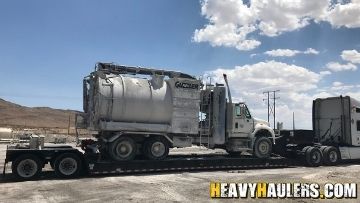 Shipping truck from Providence to Mobile
Hire Heavy Haulers to handle your next haul across the country! This is a Vacuum Truck that was shipped from Providence, RI to Mobile, AL. Willam Thomas at Heavy Haulers was able to secure a carrier within hours of speaking to this client. Willam Thomas was able to handle all of the paperwork for the height and weight permits of this oversize load. Call Willam Thomas at Heavy Haulers to get your next oversize equipment hauled!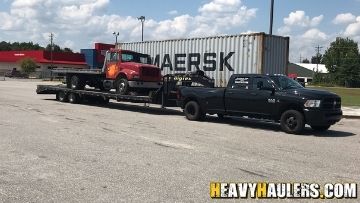 Transporting a Truck from Columbia to Providence
This is a 1997 International 4700 Rollback that was picked up in Columbia SC and delivered to Providence, RI. This client called in after the original company hired to transport this International Rollback did not produce a driver. Chris Kyle at Heavy Haulers took action and immediately started working on this order. Within 2 hours Chris Kyle was able to have a driver pick up this International Rollback and have it delivered! If you need any freight hauled call Chris Kyle today!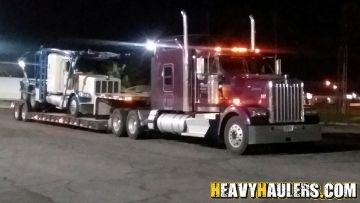 Hauling a trucks from Providence, RI
Let Tye Forte at Heavy Haulers transport your freight! This 2012 Peterbilt 388 was recently transported from Providence, RI to Rogers, MN. Tye Forte at Heavy Haulers can get your Peterbilt truck or freight transported anywhere in the United States, Mexico or Canada. All of Heavy Haulers agents are trained to be able to determine the correct trailer for your load. Call Tye Forte at Heavy Haulers today to get your next load picked up!
Shipping Logging Vehicles in or around Providence
With both the knowledge of local and state transport law and the logistics of planning routes, drivers who work for Heavy Haulers are uniquely qualified to deliver your oversized machinery or equipment to your business no matter where you're located within North America. They refer to Rhode Island's Interstate shipping regulations when determining which route to take through the Providence region and regularly travel I-95 and US Route 44. We obtain the permits and signage you need to transport legally through the state so you can focus on running your business.
Providence, Rhode Island Towing and Transportation Specs
Airports:T.F. Green International Airport

Ports:Port of Providence

Trailer length limit: 53' semi-trailer on Interstate and designated highways; semitrailer on other roads.




SUPERLOAD DESIGNATION BEGINS WITH THE FOLLOWING DIMENSIONS

Weight: Depends on the route and dimension of the equipment.

Width: An escort is required with width over 12'

Height: Depends on the route and dimension of the equipment.

Length: An escort is required with length greater than 80'

Transport Restrictions: Travel generally permitted between 1/2 hour before to 1/2 hour after sunset during the work week. No weekend travel allowed, and no travel on major holidays or VJ day (2nd Monday of August).

Common Rhode Island Trailer Types: Extended Removable GooseNeck Trailers, Flatbed trailers, Step Deck trailers

Common Transport Equipment: Oil field rigs, logging trucks, Street sweepers
Hauling your Heavy Vehicles with the Experts
More than ten years experience in "Super-load" shipping makes Heavy Haulers your best choice to guarantee the safe delivery of your new equipment wherever your company is based. With double the insurance, we protect your investment from accidental damage during transport as well as natural disasters such as wildfires, flooding and tornadoes. We are proud members of the BBB and maintain an affiliation with the Transportation Intermediaries Association (TIA). Give us a call today at 1-(800) 908-6206 and ask for a free shipping quote. We want to work for you!
Looking For Transport
With a Specific Trailer?

Max Weight: 150,000+ lbs. | Main Deck Length 29 ft.
| Well Width 8.5 ft. | Legal Height Limit 11.6 ft.

Max Weight: 48,000 lbs. | Max Length 53 ft.
| Max Width 8.5 ft. | Max Height 8.5 ft.
Max Weight: 48,000 lbs. Max Length 53 ft. |
Max Width 8.5 ft. | Max Height 11 ft.
Max Weight: 45,000 lbs. | Max Length 29 ft.
| Max Width 8.5 ft. | Max Height 11.5 ft.
When Shipping Equipment in Providence, Rhode Island with Heavy Haulers;
When you choose Heavy Haulers, you're opting for quality. Plenty of fly-by-night operations want your transportation business. We are professional transporters who are in this for the long run. Our nationwide construction-equipment hauling company is:
● Experienced - More than 10 years transporting cargo in the U.S.;

● Double Insured - Carrier and Contingency, Just In Case;

● Professional - Fully Licensed, Bonded and Accredited;

● Efficient - We accept nearly all forms of payment, including cash.
Experience Shipping Heavy Equipment to / from Providence, Rhode Island
Heavy Haulers specializes in hauling heavy loads such as construction equipment, oil field rigging and Super Loads. We are wideload experts! Heavy Haulers specializes in the heavy stuff! However - we can accommodate all types of equipment no matter the weight. Below you'll find some common pieces of equipment we've transported for the past 10+ years!
Common Equipment Heavy Haulers Transports
Trust Heavy Haulers to transport any brand of equipment you own. Most of our drivers are experienced heavy-machinery operators who can safely maneuver your loads aboard our trailers. Some of the brands we have shipped include: