Seattle, Washington Equipment and Machinery Transportation Services
With the growth of your Seattle manufacturing business, you'll eventually need to expand your inventory. But purchasing oversized or high-dimensional equipment is only half the challenge, as it can be expensive and time-consuming to transport long distances. That's when you should call on Heavy Haulers Transport to ship your equipment to your Seattle company. We deliver "Superload" vehicles and other equipment to any location throughout the United States, Canada and Mexico.
Ask Heavy Haulers to transport your machinery between Seattle, Washington and any state in the nation, Canada and Mexico. Contact Heavy Haulers for FREE transport estimates at (800) 908-6206.
Recent Transports heavy Haulers has taken to/from Seattle, WA Heavy Haulers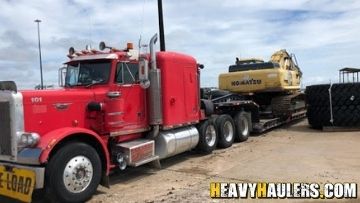 Shipping a Komatsu PC300 from Texas to WA
Let Heavy Haulers manage your next shipment. Whether you have an LTL or TL load we can get your freight on the proper trailer as early as today! This is a Komatsu PC300 Excavator that was shipped from TX to WA. This shipment was oversized and did require permits for transporting. If you are looking for a reliable company to haul your equipment call Willam Thomas today!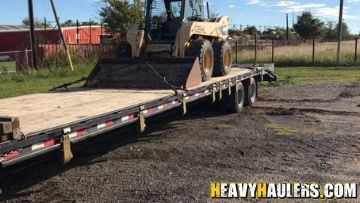 Transporting a Skid Steer in Seattle, WA
About a month ago Tye Forte at Heavy Haulers scheduled the delivery of this Gehl 7810 Skid Steer to be loaded in Seattle, WA and delivered to Wylie, TX (2,119 miles). This Gehl Skid Steer was 12 feet long, 6 feet wide, 7 feet high and weighed a total of 4,000 pounds! Tye Forte at Heavy Haulers was able to properly schedule this load for a swift delivery to the client in Wylie, TX. If you are looking for a reliable agent call Tye Forte at Heavy Hauler today for your free quote on your shipment!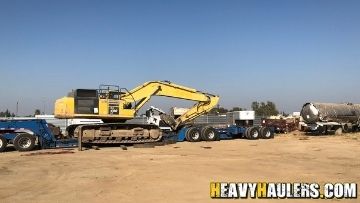 Hauling a Komatsu PC490LC-10 to Seattle, WA
Let the professionals handle your next freight load! This is a Komatsu PC490LC-10 that was loaded in Fresno, CA and delivered 921 miles to Seattle, WA. Milos Visnjic at Heavy Haulers was able to schedule this load for the client. If you or the company that you represent need any freight transported in the United States, Mexico or Canada call Milos Visnjic today for a free estimate:
Shipping Heavy Equipment through Seattle, Washington
Our licensed drivers are experienced in logistics and are intimately familiar with I-90 and the I-5 Express that run through central Seattle and branch into Bellevue, Renton and other nearby suburbs. They also have a deep understanding of Washington transport laws and take responsibility for filing paperwork and obtaining the necessary signage for your load so you can sleep easy knowing your special delivery stays on the road.
Seattle Towing/Shipping Specifications
Airports: Seattle-Tacoma International Airport (Sea-Tac), Seattle Boeing Field Airport

Trailer length limit w/out permit: 56' semi-trailer w/load, 80,000 lb gross if legal on all axle/group weights

Water Ports: Port of Seattle


Superload designation begins with dimensions greater than the following:

Weight: 200,000 lb gross

Width: 16'

Height: 16'

Length: 125'

Transport Restrictions: There are curfew restrictions around Seattle-Everett, driver must have validation number to use city routes in Seattle. Half hour before sunrise to half-hour after sunset seven days a week. Washington permits cannot be purchased at POEs.

Popular Trailers in Washington: RGN Trailer, Drop Deck, Flatbed

Popular Vehicles Transported: Logging Trucks, Cranes, Manufacturing trucks
Heavy Haulers for your Precious Loads
Heavy Haulers is headquartered in Burlington, Kentucky, with affiliate locations in both California and Florida. As the country's premiere "superload" towing company with over a decade of experience in the industry, we have a reputation of providing companies with quality customer service in a timely manner. We hold accreditation with the Transportation Intermediaries Association and the Better Business Bureau. Give us call today to find out what we can do for your business. We can't wait to talk with you!
Looking For Transport
With a Specific Trailer?

Max Weight: 150,000+ lbs. | Main Deck Length 29 ft.
| Well Width 8.5 ft. | Legal Height Limit 11.6 ft.

Max Weight: 48,000 lbs. | Max Length 53 ft.
| Max Width 8.5 ft. | Max Height 8.5 ft.
Max Weight: 48,000 lbs. Max Length 53 ft. |
Max Width 8.5 ft. | Max Height 11 ft.
Max Weight: 45,000 lbs. | Max Length 29 ft.
| Max Width 8.5 ft. | Max Height 11.5 ft.
When Shipping Equipment in Seattle, Washington with Heavy Haulers;
When you choose Heavy Haulers, you're opting for quality. Plenty of fly-by-night operations want your transportation business. We are professional transporters who are in this for the long run. Our nationwide construction-equipment hauling company is:
● Experienced - More than 10 years transporting cargo in the U.S.;

● Double Insured - Carrier and Contingency, Just In Case;

● Professional - Fully Licensed, Bonded and Accredited;

● Efficient - We accept nearly all forms of payment, including cash.
Experience Shipping Heavy Equipment to / from Seattle, Washington
Heavy Haulers specializes in hauling heavy loads such as construction equipment, oil field rigging and Super Loads. We are wideload experts! Heavy Haulers specializes in the heavy stuff! However - we can accommodate all types of equipment no matter the weight. Below you'll find some common pieces of equipment we've transported for the past 10+ years!
Common Equipment Heavy Haulers Transports
Trust Heavy Haulers to transport any brand of equipment you own. Most of our drivers are experienced heavy-machinery operators who can safely maneuver your loads aboard our trailers. Some of the brands we have shipped include: