South Dakota Heavy Machinery Shipping Services
Heavy Haulers is your most reliable choice for shipping construction, agriculture heavy machinery and equipment throughout the U.S., Canada and Mexico. We're the premier shipper of construction equipment in the country. Heavy Haulers has years of freight-hauling and heavy-equipment shipping experience. Our courteous representatives are the most knowledgeable in the business. We offer door-to-door service, port-to-business transport and same-day loading. Call today for outstanding service, great rates and successful shipments!
Ask Heavy Haulers to transport your machinery between South Dakota and any state in the nation, Canada and Mexico. Contact Heavy Haulers for FREE transport estimates at (800) 908-6206.
Heavy Haulers operates frequently on the roads of South Dakota. Only two interstates appear in the state:
● I-29 - runs north/south in the eastern portion of the state, from North Dakota from Nebraska;

● I-90 - runs east/west across the southern portion of the state, from Wyoming to Minneapolis.
Heavy Haulers can get your machinery shipped to every city in South Dakota including:
Sioux Falls, SD; Rapid City, SD; Aberdeen, SD; Brookings, SD; Watertown, SD; Mitchell, SD; Yankton, SD; Pierre, SD; Huron, SD; Vermillion, SD; Spearfish, SD; Brandon, SD; Box Elder, SD; Rapid Valley, SD; Madison, SD; Sturgis, SD; Harrisburg, SD; Tea, SC; Belle Fourche, SC; Dell Rapids, SC; Hot Springs, SC; Mobridge, SD; Canton, SD; Milbank, SD; Blackhawk, SD.
Transports Around the State of South Dakota by Heavy Haulers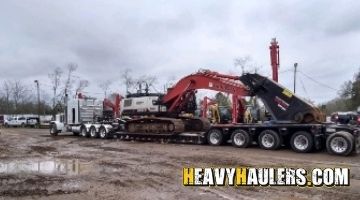 Shipping a Link Belt Excavator to South Dakota
Origin: Theodore, AL
Destination: Pierre, SD
Specs: 2016 LBX 350X4 excavator 95000# 37L 12W 12H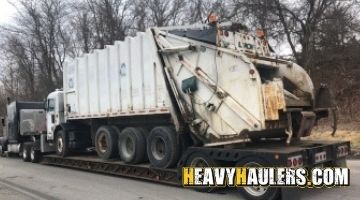 South Dakota Transport : Peterbilt Garbage Truck
Origin: Aberdeen, SD
Destination: Romeo, MI
Specs: 1 Peterbilt Garbage Truck / Rear Loader 39780# 37L 8.5W 11.6H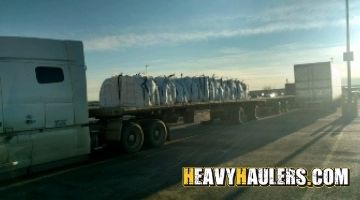 Shipping Bags of Coal from Montana to South Dakota
Origin: Hardin, MT
Destination: Watertown, SD
Specs: 20 Super bags of Coal 43000#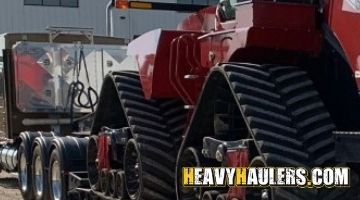 Case Quad Tractor transported to Aberdeen, SD from Pittsfield, IL
A Heavy Haulers specialist in oversize equipment shipping, Willam Thomas was the lead on the transport of this 54,000 pound Case IH 550 Quad Trac from Pittsfield, IL. The 10 ft. wide excavator required permits which Willam Thomas had at the ready within an hour of the load valuation. He loaded the 27 ft. long and 12.8 ft. high Case IH 550 Quad Trac onto an RGN trailer which delivered the load safely in Aberdeen, South Dakota.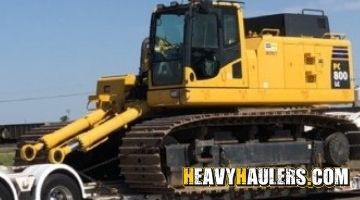 Komatsu Excavator transported from Gillette, WY to Kimball, SD
This 75,000 pound and 13 ft. wide Komatsu PC800LC-8 excavator had its shovel extracted for shipping by Heavy Hauler's machine millwrights under the supervision of Mike Phillips. The 11.7 ft. high and 16.5 ft. long excavator was picked up in Gillette, Wyoming and delivered to Kimball on a Heavy Haulers RGN trailer with all permit requirements for cross-state transportation in place. Mike Phillips and his Heavy Haulers' drivers successfully delivered the Komatsu PC800LC-8 after a 365-mile route trip.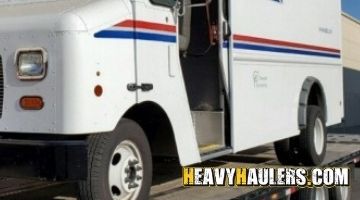 USPS TRUCK transported to Aberdeen, South Dakota
This USPS TRUCK was transported to Aberdeen, South Dakota by the conclusive shipping services rendered by specialist Milos Visnjic from Heavy Haulers. The 11,000-pound box truck was 23 ft. long and 10 ft. high with a width of 7.5 ft. and Milos Visnjic loaded it onto a flatbed trailer. This long haul transportation across 5 states was approximately 1,613 miles and delivery was made within the scheduled time frame.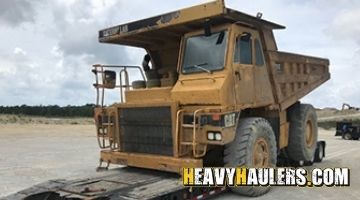 Shipping a Caterpillar Dump Truck from South Dakota
Heavy Haulers specializes in transporting heavy machinery. This is one of our oversized transports. This Caterpillar 769C Dump Truck was overwidth and overheight! We were able to maneuver this to make it within legal limits. Shipped from Kimball, South Dakota to Anchor Mill, Tennessee for a total of 1,149 miles. Heavy Haulers transport heavy machinery to all 50 U.S. states as well as Canada and Mexico. Heavy Haulers specialize in less than truck loads (LTL) and full truck loads (TL) shipments. It doesn't matter which type of trailer you need for your transportation request we will get it done! Call Brian G. to get your freight hauled: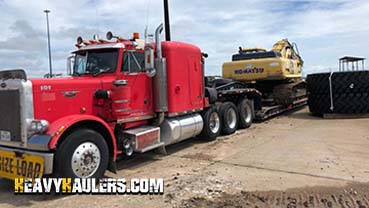 Transporting a Komatsu Excavator from South Dakota to Tennessee
Let Heavy Haulers manage your next shipment. Whether you have an LTL or TL load we can get your freight on the proper trailer as early as today! This is a Komatsu PC300 Excavator that was shipped from White Lake, South Dakota to Plano, Texas. For a total of 889 miles. This shipment was oversized and did require permits for transporting. If you are looking for a reliable company to haul your equipment call Willam Thomas today!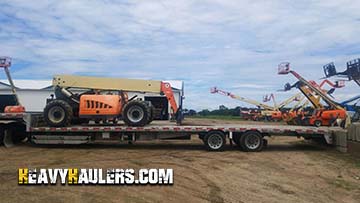 Hauling a JLG Telehandler Forklift from Presho, South Dakota
Heavy Haulers recently transported this JLG G9-42A Telehandler Forklift. This JLG forklift was picked up in Presho, South Dakota and delivered to Port Hueneme, California for a total of 1,629 miles. This JLG telehandler forklift was 23 feet 7 inches long, 8 feet 2 inches wide, 8 feet 2 inches high and weighed 25,200 pounds! Let Heavy Haulers handle your next shipment. Call Willam Thomas at Heavy Haulers today for more information!

-->
Looking For Transport
With a Specific Trailer?

Max Weight: 150,000+ lbs. | Main Deck Length 29 ft.
| Well Width 8.5 ft. | Legal Height Limit 11.6 ft.

Max Weight: 48,000 lbs. | Max Length 53 ft.
| Max Width 8.5 ft. | Max Height 8.5 ft.
Max Weight: 48,000 lbs. Max Length 53 ft. |
Max Width 8.5 ft. | Max Height 11 ft.
Max Weight: 45,000 lbs. | Max Length 29 ft.
| Max Width 8.5 ft. | Max Height 11.5 ft.
In South Dakota and Looking for "Heavy Haul Transport Near Me"? We've Got You Covered!
With iconic mountains and forests, South Dakota is known for its versatile terrain. Common oversize loads shipped include construction machinery and forestry equipment. At Heavy Haulers we transport all heavy equipment, no matter where you are in South Dakota. When you need heavy haul transport "near me" give us a call! (800) 908-6206
South Dakota Rail Yards & Airports Heavy Haulers Transport To/From
Heavy Haulers ships cargo to rail yards in South Dakota. The largest rail yard in the state has been revamped:
● Sioux Falls - Sioux Falls Yard.
Heavy Haulers delivers to most airports in South Dakota. South Dakota operates nearly 30 primary airports including:
● Sioux Falls - primary regional airport;

● Rapid City - primary regional airport;

● Aberdeen - primary regional airport.
When Shipping Equipment in South Dakota with Heavy Haulers;
When you choose Heavy Haulers, you're opting for quality. Plenty of fly-by-night operations want your transportation business. We are professional transporters who are in this for the long run. Our nationwide construction-equipment hauling company is:
● Experienced - More than 10 years transporting cargo in the U.S.;

● Double Insured - Carrier and Contingency, Just In Case;

● Professional - Fully Licensed, Bonded and Accredited;

● Efficient - We accept nearly all forms of payment, including cash.
Experience Shipping Heavy Equipment to South Dakota
Heavy Haulers specializes in hauling heavy loads such as construction equipment, oil field rigging and Super Loads. We are wideload experts! Heavy Haulers specializes in the heavy stuff! However - we can accommodate all types of equipment no matter the weight. Below you'll find some common pieces of equipment we've transported for the past 10+ years!
Common Equipment Heavy Haulers Transports
Trust Heavy Haulers to transport any brand of equipment you own. Most of our drivers are experienced heavy-machinery operators who can safely maneuver your loads aboard our trailers. Some of the brands we have shipped include:
Heavy Haulers Also Ships Heavy Equipment in The Following Cities:
Summerset, SD; Winner, SD; Sisseton, SD; Chamberlain, SD; Lennox, SD; Flandreau, SD; North Spearfish, SD; Redfield, SD; Beresford, SD; Elk Point, SD; Fort Pierre, SD; Volga, SD; Custer, SD; Springfield, SD; Colonial Pine Hills, SD; North Eagle Butte, SD; Webster, SD; Parkston, SD; Wagner, SD; Rosebud, SD; Groton, SD; Crooks, SD; Miller, SD; Freeman, SD; Salem, SD; Platte, SD; Oglala, SD; Eagle Butte, SD; Baltic, SD; Garretson, SD; Fort Thompson, SD; Gregory, SD; Clear Lake, SD; Britton, SD; Parker, SD; Lemmon, SD; Deadwood and Mission, SD; Clark, SD; Gettysburg, SD; Tyndall, SD; De Smet, SD; Green Valley, SD; Aurora, SD; Piedmont, SD; Kyle, SD; Martin, SD; Ipswich, SD; Worthing, SD; Porcupine, SD;