Heavy Equipment and Machinery Transportation to / from Wilmington, Delaware
When it's time to ship your oversized equipment to or from Wilmington, Delaware, Heavy Haulers has you covered, and without the usual cost and hassle of transporting heavy vehicles or machinery. Our drivers know cities and towns along I-95, including Wilmington and the smaller cities like Bellefonte, Edgemoor and Simonds Gardens.
Ask Heavy Haulers to transport your machinery between Wilmington, DE and any state in the nation, Canada and Mexico. Contact Heavy Haulers for FREE transport estimates at (800) 908-6206.
Our Recent Wilmington, Delaware Shipments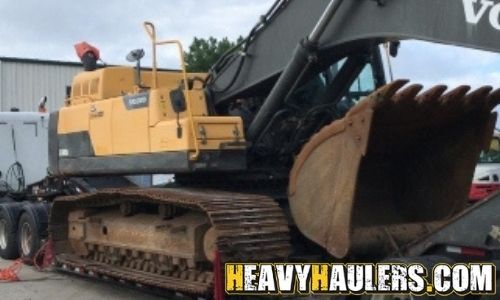 Shipping a Volvo EC480DL Excavator to Wilmington
Origin: Latham, NY
Destination: Wilmington, DE
Specs: 2012 Volvo EC480DL Excavator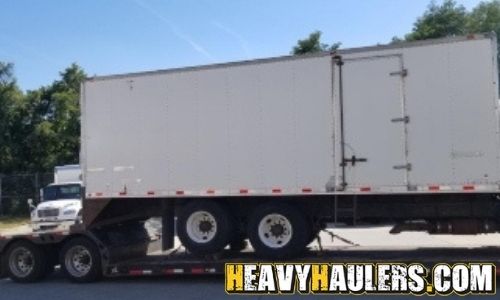 Wilmington Transport: International 4400 Box Truck
Origin: Wilmington, DE
Destination: Salisbury, NC
Specs: 2008 international 4400 box truck; 34L x 8W x 12.6H; 25,000lbs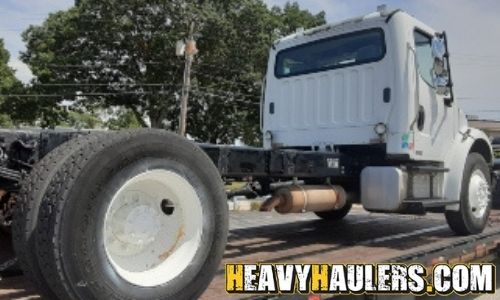 Hauling a Freightliner Daycab to Wilmington, Delaware
Origin: Providence, RI
Destination: Wilmington, DE
Specs: Freightliner Daycab; 22L x 8W x 10H; 17,000lbs
Shipping Heavy Equipment Through Wilmington, Delaware
The drivers we hire are excellent at planning and implementing a route for a quick, efficient delivery of your manufacturing or agricultural vehicle anywhere in the state of Delaware. Whether it is a standard oversized vehicle or a Super Load, Heavy Haulers knows the regulations and requirements and will ensure the paperwork is filed during each leg of the journey.
Heavy Equipment Shipping Specifications through Wilmington, Delaware
Ports: Port of Wilmington

Airports: New Castle Airport

Trailer length limit: 53' trailer length




SUPERLOAD DESIGNATION BEGINS WITH THE FOLLOWING DIMENSIONS

Weight: Over 120,000 lb gross

Width: 15'

Height: 15'

Length: 120'

Transport Restrictions: Escorts are required for lengths over 90'. SuperLoads require two escorts as well as the State Police and a Bridge Survey. Travel is allowed during daylight hours, no weekend travel allowed. Roads are closed to travel on most major holidays.

Common Connecticut Trailer Types: Extended RGN, Flatbed, Drop-Deck

Common Transport Equipment: Excavator, Lathe Press, Dump Trucks
Heavy Haulers Can Ship your Oversized Manufacturing Equipment
Heavy Haulers is certified, accredited and insured to provide oversized transport throughout the United States, Canada and Mexico. We are insured with both contingency and carrier insurance to provide you the peace of mind you need. Give us a call at 1-(800) 908-6206 and request a consultation or a free shipping quote, or find out more about our services.
Looking For Transport
With a Specific Trailer?

Max Weight: 150,000+ lbs. | Main Deck Length 29 ft.
| Well Width 8.5 ft. | Legal Height Limit 11.6 ft.

Max Weight: 48,000 lbs. | Max Length 53 ft.
| Max Width 8.5 ft. | Max Height 8.5 ft.
Max Weight: 48,000 lbs. Max Length 53 ft. |
Max Width 8.5 ft. | Max Height 11 ft.
Max Weight: 45,000 lbs. | Max Length 29 ft.
| Max Width 8.5 ft. | Max Height 11.5 ft.
When Shipping Equipment in Wilmington, DE with Heavy Haulers;
When you choose Heavy Haulers, you're opting for quality. Plenty of fly-by-night operations want your transportation business. We are professional transporters who are in this for the long run. Our nationwide construction-equipment hauling company is:
● Experienced - More than 10 years transporting cargo in the U.S.;

● Double Insured - Carrier and Contingency, Just In Case;

● Professional - Fully Licensed, Bonded and Accredited;

● Efficient - We accept nearly all forms of payment, including cash.
Experience Shipping Heavy Equipment to / from Wilmington, DE
Heavy Haulers specializes in hauling heavy loads such as construction equipment, oil field rigging and Super Loads. We are wideload experts! Heavy Haulers specializes in the heavy stuff! However - we can accommodate all types of equipment no matter the weight. Below you'll find some common pieces of equipment we've transported for the past 10+ years!
Common Equipment Heavy Haulers Transports
Trust Heavy Haulers to transport any brand of equipment you own. Most of our drivers are experienced heavy-machinery operators who can safely maneuver your loads aboard our trailers. Some of the brands we have shipped include: