Boise ID Heavy Machinery Shipping Services
Heavy Haulers Transport is the solution to your heavy transport dilemma. We specialize in shipping/towing oversized and "Super Load" machinery across the fifty states, Canada and Mexico. From the tip of the Kootenai National Forest to the busy city of Boise and quaint villages of Preston, we travel highways and byways throughout the state of Idaho.
Ask Heavy Haulers to transport your machinery between Boise, ID and any state in the nation, Canada and Mexico. Contact Heavy Haulers for FREE transport estimates at (800) 908-6206.
Our Recent Boise, Idaho Shipments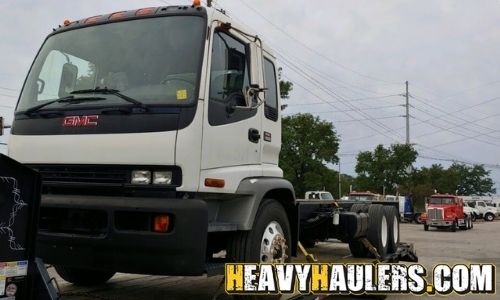 Transporting a GMC Day Cab to Boise, Idaho
Origin: Kansas City, KS
Destination: Boise, ID
Specs: 2006 GMC Day Cab; 33L x 8W x 9H; 18,000lbs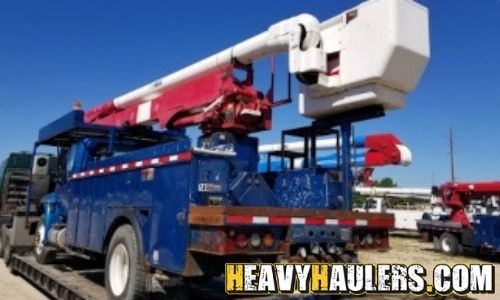 Bosie Transport: International 4400 Bucket Truck
Origin: Charlotte, MI
Destination: Boise, ID
Specs: 2009 International 4400 Bucket Truck; 29L x 8.6W x 12.5H; 26,000lbs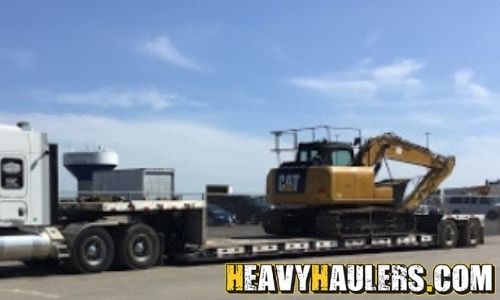 Shipping a CAT 313FLGC Hydraulic Excavator from Boise
Origin: Boise, ID
Destination: Grand Rapids, MI
Specs: 2015 Caterpillar 313FLGC; 26L x 8.5W x 10H; 33,000lbs
Sending Agricultural Vehicles through Boise
It takes enough time and energy for you to keep a business afloat, let alone struggling to guarantee delivery of that vital farming truck or excavator to a business office across the country. Let Heavy Haulers Transport help you move your equipment where it needs to go in or around Boise. We don't just take care of the paperwork and permit details for your new oversized vehicle, we also have our logistic experts plan the best route and timeline to ensure it arrives safely and in perfect condition. From the East-west Interstate 84 to State Route 95 that runs north to south, we make it our business to know the area's major thoroughfares.
Boise Idaho Hauling and Transport Specs
Ports: inland Port of Lewiston on Clearwater River

Airports: Boise Airport

Trailer length limit: combined truck and trailer max is 75'




SUPERLOAD DESIGNATION BEGINS WITH THE FOLLOWING DIMENSIONS

Weight: 118,000 (6 axles) or 112,000 lb (5 axles)

Width: 16'

Height: 14'6"

Length: 110' on 2-lane, 115' on 4-lane roads

Transport Restrictions: Anything over 100' long requires an escort vehicle on 2-lane roads, on the Interstate the max is 115'. Travel follows the standard half-hour rule (free to travel 1/2 hour before sunrise to 1/2 hour after sunset). Twenty-four/seven travel allowed if vehicle is less than 10' wide.

Common Idaho Trailer Types: Step Deck Trailer, Lowboy, Flatbed

Common Transport Equipment: Harvesters, Feller Bunchers, Farm Trucks
Shipping Oversized Equipment with Heavy Haulers
Heavy Haulers carries the license, bond and insurance to ship supersized equipment across the state of Idaho and the Pacific Northwest. Our 10+ years of experience make us the best company for your hauling needs. Give our friendly, knowledgeable customer service professionals a call today at 1-(800) 908-6206 and ask how you can get a free shipping quote. We have someone available to speak with you at your convenience.
Looking For Transport
With a Specific Trailer?

Max Weight: 150,000+ lbs. | Main Deck Length 29 ft.
| Well Width 8.5 ft. | Legal Height Limit 11.6 ft.

Max Weight: 48,000 lbs. | Max Length 53 ft.
| Max Width 8.5 ft. | Max Height 8.5 ft.
Max Weight: 48,000 lbs. Max Length 53 ft. |
Max Width 8.5 ft. | Max Height 11 ft.
Max Weight: 45,000 lbs. | Max Length 29 ft.
| Max Width 8.5 ft. | Max Height 11.5 ft.
When Shipping Equipment in Boise, ID with Heavy Haulers;
When you choose Heavy Haulers, you're opting for quality. Plenty of fly-by-night operations want your transportation business. We are professional transporters who are in this for the long run. Our nationwide construction-equipment hauling company is:
● Experienced - More than 10 years transporting cargo in the U.S.;

● Double Insured - Carrier and Contingency, Just In Case;

● Professional - Fully Licensed, Bonded and Accredited;

● Efficient - We accept nearly all forms of payment, including cash.
Experience Shipping Heavy Equipment to Boise, ID
Heavy Haulers specializes in hauling heavy loads such as construction equipment, oil field rigging and Super Loads. We are wideload experts! Heavy Haulers specializes in the heavy stuff! However - we can accommodate all types of equipment no matter the weight. Below you'll find some common pieces of equipment we've transported for the past 10+ years!
Common Equipment Heavy Haulers Transports
Trust Heavy Haulers to transport any brand of equipment you own. Most of our drivers are experienced heavy-machinery operators who can safely maneuver your loads aboard our trailers. Some of the brands we have shipped include: