Delaware Heavy Machinery Shipping Services
Heavy Haulers is your most reliable choice for shipping construction, agriculture heavy machinery and equipment throughout the U.S., Canada and Mexico. We're the premier shipper of construction equipment in the country. Heavy Haulers has years of freight-hauling and heavy-equipment shipping experience. Our courteous representatives are the most knowledgeable in the business. We offer door-to-door service, port-to-business transport and same-day loading. Call today for outstanding service, great rates and successful shipments!
Ask Heavy Haulers to transport your machinery between Delaware and any state in the nation, Canada and Mexico. Contact Heavy Haulers for FREE transport estimates at (800) 908-6206.
Heavy Haulers delivers cargo over Delaware roads. The state has six U.S. highways. Only one interstate runs through Delaware:
● I-95 - runs east/west through the northern part of the state, connecting Maryland with New York;

● US-9 - runs east/west in the state, between Laurel and Cape May;

● US-13 - runs north/southt through the state, from Pennsylvania to Maryland;

● DE-1 - runs north/south through the state, from Christiana to Fenwick.
Heavy Haulers offers heavy machinery transport to every Delaware city including: Wilmington, DE; Dover, DE; Newark, DE; Middletown, DE; Smyrna, DE; Milford, DE; Seaford, DE; Georgetown, DE; Elsmere, DE; New Castle, DE; Bear, DE; Glasglow, DE; Pike Creek, DE; Claymont, DE; Wilmington Manor, DE; Hockessin, DE; Brookside, DE; Smyrna, DE; North Star, DE; Edgemoor, DE.
Transports around the state of Delaware by Heavy Haulers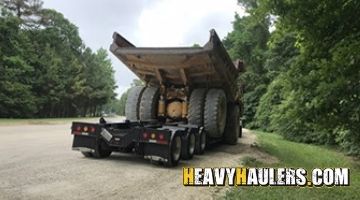 Shipping Caterpillar 769C Articulated Dump Truck
Heavy Haulers will transport all of your machinery anywhere you need! This is one of our transports where our agent made sure to maximize the trailer. This Caterpillar 769C Articulated Dump truck was 27 ft. long, 13 ft. wide, 12 ft. 4 in. high and 68,000 lbs. Brian G at Heavy Haulers had the driver straddle the trailer to make this Caterpillar 769C fit within legal height! This was shipped from Milford, Delaware to Jackson, New Jersey for a total of 156 miles. Call Brian G. today to get your oversized machinery transported: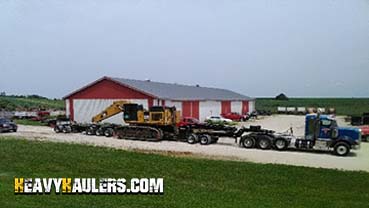 Transporting Caterpillar 365 Excavator
Heavy Haulers recently transported this Caterpillar 365 Excavator for one of our repeat clients. Our agent Brian G. was able to secure a driver to pick up this excavator in Dover, Delaware and delivered to Tampa, Florida. This oversized piece of equipment needed permits for its 997 mile journey. This Caterpillar excavator was 30 feet long, 13 feet wide, 12 feet 6 inches high and 88,000 pounds. Call our agent Brian G. to schedule your next oversized shipment today: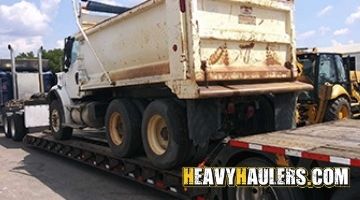 Hauling Freightliner Tadem Axle Dump Truck
Truck transportation is one of the many services Heavy Haulers can provide. Willam Thomas at Heavy Haulers scheduled for this Freightliner Tadem Axle Dump truck to be transported from Smyrna, Delaware to Springfield, Illinois a total of 857 miles. Heavy Haulers will ship your Freightliner Dump truck anywhere in the United States, Mexico or Canada. Call Willam Thomas at Heavy Haulers for more information on this service!
Looking For Transport
With a Specific Trailer?

Max Weight: 150,000+ lbs. | Main Deck Length 29 ft.
| Well Width 8.5 ft. | Legal Height Limit 11.6 ft.

Max Weight: 48,000 lbs. | Max Length 53 ft.
| Max Width 8.5 ft. | Max Height 8.5 ft.
Max Weight: 48,000 lbs. Max Length 53 ft. |
Max Width 8.5 ft. | Max Height 11 ft.
Max Weight: 45,000 lbs. | Max Length 29 ft.
| Max Width 8.5 ft. | Max Height 11.5 ft.
In Delaware and Looking for "Heavy Haul Transport Near Me"? We've Got You Covered!
Delaware sits on the eastern seaboard with beautiful dune-backed beaches and Colonial landmarks that remind us of the past. At Heavy Haulers, we're proud to transport in and out of every small town and city in Delaware. We're there for every local business and small town entrepreneur. When you need heavy equipment transport "near me" give us a call. We'll be there when you need us, to make sure you can get back to work. Call now! (800) 908-6206
Delaware Ports & Airports Heavy Haulers Transport To/From
Heavy Haulers transfers cargo to ports in Delaware. The Port of Wilmington is about 65 miles from the Atlantic Ocean. The state has only one major port:
● Port of Wilmington - Atlantic Ocean port on Delaware River.
Heavy Haulers services all airports in Delaware. Only four airports in Delaware, and two of those are general aviation airports. The main airport in Delaware is:
● Wilmington - primary airport.
When Shipping Equipment in Delaware with Heavy Haulers;
When you choose Heavy Haulers, you're opting for quality. Plenty of fly-by-night operations want your transportation business. We are professional transporters who are in this for the long run. Our nationwide construction-equipment hauling company is:
● Experienced - More than 10 years transporting cargo in the U.S.;

● Double Insured - Carrier and Contingency, Just In Case;

● Professional - Fully Licensed, Bonded and Accredited;

● Efficient - We accept nearly all forms of payment, including cash.
Experience Shipping Heavy Equipment to Delaware
Heavy Haulers specializes in hauling heavy loads such as construction equipment, oil field rigging and Super Loads. We are wideload experts! Heavy Haulers specializes in the heavy stuff! However - we can accommodate all types of equipment no matter the weight. Below you'll find some common pieces of equipment we've transported for the past 10+ years!
Common Equipment Heavy Haulers Transports
Trust Heavy Haulers to transport any brand of equipment you own. Most of our drivers are experienced heavy-machinery operators who can safely maneuver your loads aboard our trailers. Some of the brands we have shipped include:
Heavy Haulers Also Ships Heavy Equipment in The Following Cities:
New Castle, DE; Rising Sun-Lebanon, DE; Clayton, DE; Laurel, DE; Harrington, DE; Camden, DE; Highland Acres, DE; Lewes, DE; Milton, DE; Greenville, DE; Long Neck, DE; Selbyville, DE; Dover Base Housing, DE; Townsend, DE; Ocean View, DE; Woodside East, DE; Bridgeville, DE; Riverview, DE; Kent Acres, DE; Delmar, DE; St. Georges, DE; Cheswold, DE; Delaware City, DE; Millville, DE; Wyoming, DE; Rodney Village, DE; Felton, DE; Bellefonte, DE; Blades, DE; Rehoboth Beach, DE; Frederica, DE; Greenwood, DE; Bethany Beach, DE; Newport, DE; Dagsboro, DE; Frankford, DE; Ellendale, DE; South Bethany, DE; Arden, DE; Houston, DE; Odessa, DE; Dewey Beach, DE; Fenwick Island, DE; Bowers, DE; Magnolia, DE; Ardentown, DE; Bethel, DE; Ardencroft, DE; Slaughter Beach, DE;