Shipping Equipment To/From Des Moines, Iowa With Heavy Haulers
When the time comes to move your heavy or supersized equipment to or from Des Moines, Iowa, Heavy Haulers has got you covered without the dreaded hassle and expense of transporting heavy machinery. Our drivers are familiar with the Midwest states and regularly traverse the highways that zip through the plains, including I-35 and I-80.
Ask Heavy Haulers to transport your machinery between Des Moines, IA and any state in the nation, Canada and Mexico. Contact Heavy Haulers for FREE transport estimates at (800) 908-6206.
Our Recent Des Moines, Iowa Shipments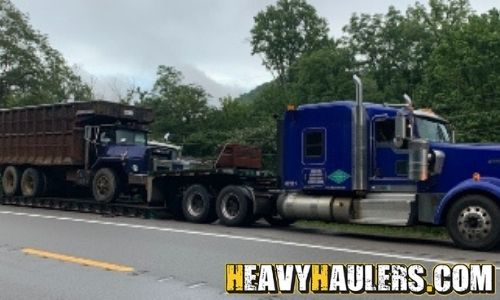 Transporting a Mack Dump Truck to Des Moines
Origin: Coldiron, KY
Destination: Des Moines, IA
Specs: 1985 Mack Dump Truck; 32L x 8.5W x 11.6H; 36000lbs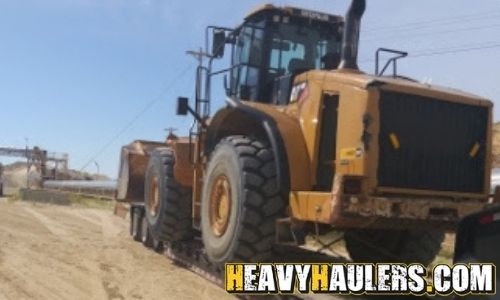 Des Moines Transport: CAT 980h Wheel Loader
Origin: Menomonie, WI
Destination: Des Moines, IA
Specs: CAT 980h Wheel Loader; 32L x 11.6W x 12.4H; 70000lbs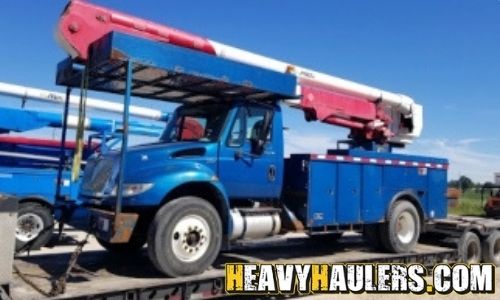 Shipping an international 4400 bucket truck from Charlotte, MI to Des Moines, IA
Origin: Charlotte, MI
Destination: Des Moines, IA
Specs: 2009 International 4400 bucket truck; 29L x 8.6W x 12.5H; 26000lbs
Shipping Heavy Equipment through Des Moines Iowa
Our drivers have an excellent sense of the logistics involved in implementing a long-haul transport plan. They use weather forecasts, local media and knowledge of Iowa's Superload transport regulations to pick the route that will bring the equipment to you efficiently and without hassle. While we specialize in larger vehicles and equipment, we can also deliver any sized agricultural or manufacturing equipment with the same care and consideration.
Des Moines, IA Shipping and Transportation Specs
Airports: Des Moines International Airport

Trailer length limit w/out permit: 53' semi-trailer and load




SUPERLOAD DESIGNATION BEGINS WITH THE FOLLOWING DIMENSTIONS

Weight: 20,000 lb (Single), 40,000 lb (Tandem)

Width: 18'

Height: 18'

Length: 120'

Transport Restrictions: If overweight, blades, buckets and counterweights need to be removed and hauled separately. Des Moines prohibits travel on I-235 from 7:00am-9:00am and 4:00-6:00pm M-F. Loads of greater than 100' long require daytime travel (1/2 hour rule applies). Escort required after 85' long.

Common Connecticut Trailer Types: Drop Deck Trailer, RGN, Flatbed

Common Transport Equipment: Grinders, Skid Steers, Cranes
Your Best Decision for Cross-state Towing
Heavy Haulers is the country's premiere superload towing company headquartered in Burlington, Kentucky. They work within a variety of industries, from energy to farming and everything in between. Doubly insured, drivers are licensed and bonded to provide quick and professional transport so that you can keep your business moving forward at full steam. Our primary goal is to provide top-quality service without disappointing gaps in service. In pursuit of this goal, we transport equipment of all weight and dimensions. If you want to learn more about how we can help your company move its largest equipment or vehicles, give us a call at (800) 908-6206..
Looking For Transport
With a Specific Trailer?

Max Weight: 150,000+ lbs. | Main Deck Length 29 ft.
| Well Width 8.5 ft. | Legal Height Limit 11.6 ft.

Max Weight: 48,000 lbs. | Max Length 53 ft.
| Max Width 8.5 ft. | Max Height 8.5 ft.
Max Weight: 48,000 lbs. Max Length 53 ft. |
Max Width 8.5 ft. | Max Height 11 ft.
Max Weight: 45,000 lbs. | Max Length 29 ft.
| Max Width 8.5 ft. | Max Height 11.5 ft.
When Shipping Equipment in Des Moines, IA with Heavy Haulers;
When you choose Heavy Haulers, you're opting for quality. Plenty of fly-by-night operations want your transportation business. We are professional transporters who are in this for the long run. Our nationwide construction-equipment hauling company is:
● Experienced - More than 10 years transporting cargo in the U.S.;

● Double Insured - Carrier and Contingency, Just In Case;

● Professional - Fully Licensed, Bonded and Accredited;

● Efficient - We accept nearly all forms of payment, including cash.
Experience Shipping Heavy Equipment to / from Des Moines, IA
Heavy Haulers specializes in hauling heavy loads such as construction equipment, oil field rigging and Super Loads. We are wideload experts! Heavy Haulers specializes in the heavy stuff! However - we can accommodate all types of equipment no matter the weight. Below you'll find some common pieces of equipment we've transported for the past 10+ years!
Common Equipment Heavy Haulers Transports
Trust Heavy Haulers to transport any brand of equipment you own. Most of our drivers are experienced heavy-machinery operators who can safely maneuver your loads aboard our trailers. Some of the brands we have shipped include: