North Dakota Heavy Machinery Shipping Services
Heavy Haulers is your most reliable choice for shipping construction, agriculture heavy machinery and equipment throughout the U.S., Canada and Mexico. We're the premier shipper of construction equipment in the country. Heavy Haulers has years of freight-hauling and heavy-equipment shipping experience. Our courteous representatives are the most knowledgeable in the business. We offer door-to-door service, port-to-business transport and same-day loading. Call today for outstanding service, great rates and successful shipments!
Ask Heavy Haulers to transport your machinery between North Dakota and any state in the nation, Canada and Mexico. Contact Heavy Haulers for FREE transport estimates at (800) 908-6206.
Heavy Haulers travels frequently on North Dakota roads. The state's two interstate roadways are:
● I-29 - runs north/south down the eastern edge of the state, from Canada to South Dakota;

● I-94 - runs east/west through the southern portion of the state, from Montana to Minnesota.
Heavy Haulers can get your machinery shipped to every city in North Dakota including:
Fargo, ND; Bismarck, ND; Grand Forks, ND; Minot, ND; West Fargo, ND; Dickinson, ND; Williston, ND; Mandan, ND; Jamestown, ND; Watford City, ND; Valley City, ND; Minot AFB, ND; Grafton, ND; Lincoln, ND; Beulah, ND; Grand Forks AFB, ND; Horace, ND; Rugby, ND; Stanley, ND; New Town, ND.
Transports Around the State of North Dakota by Heavy Haulers
Shipping a paver to North Dakota
Origin: Phoenix, AZ
Destination: Bismark, ND
Specs: 2008 LeeBoy 8510 Paver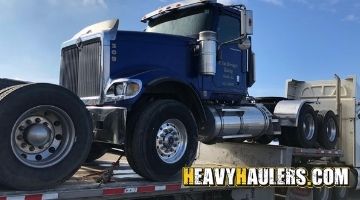 Transporting an International Paystar Daycab from North Dakota to Idaho
Origin: Minot, ND
Destination: Rigby, ID
Specs: 2007 international paystar daycab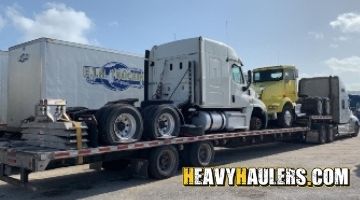 Transporting a Daycab to North Dakota
Origin: Hallandale Beach, FL
Destination: Fargo, ND
Specs: 2006 kenworth t800 daycab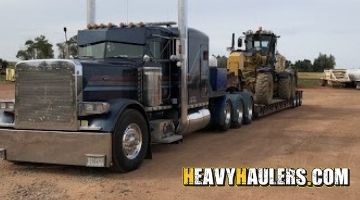 Caterpillar Motor Grader Shipped from Arnegard, ND to Inchelium, WA
This 44,000 pound Caterpillar 140 M2 Motor Grader with a width of 8.8 ft. was shipped by Hal Foster from Arnegard, North Dakota and delivered securely in Inchelium, Washington state. The motor grader was 8.8 ft. wide, 10.8 ft. high and 30 ft. long, prompting Hal to use a specialized RGN trailer for its transport. Once loaded, the shipment was tied down securely and shipped 929 miles via the I-90 W for safe and timely delivery.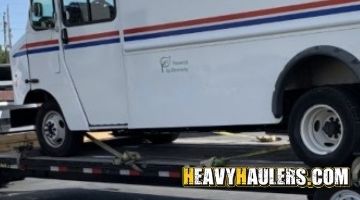 USPS Truck Heavy Hauled From Dixon, California to Grand Forks, North Dakota
This 11,000 pound USPS TRUCK was shipped to Grand Forks, North Dakota through the expertise of Milos Visnjic from Heavy Haulers. The 10 ft. high and 23 ft. long USPS truck was loaded onto a flatbed trailer and tied down with belt rigging which was inspected after every 50 miles of the 1,077-mile haul across half of the Midwest US. Milos and the Heavy Haulers load handlers delivered the 7.5 ft. wide USPS truck in Dixon, California without any hitches.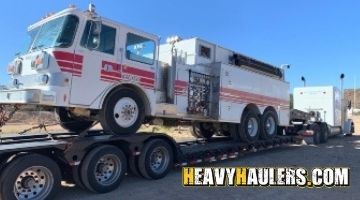 Shipping a Fire Truck from North Dakota to Virginia
Origin: Dickinson, ND
Destination: New Castle, VA
Specs: 1989 Pierce Arrow Pumper Tanker 43000# 34L 8.5W 11.2H
Looking For Transport
With a Specific Trailer?

Max Weight: 150,000+ lbs. | Main Deck Length 29 ft.
| Well Width 8.5 ft. | Legal Height Limit 11.6 ft.

Max Weight: 48,000 lbs. | Max Length 53 ft.
| Max Width 8.5 ft. | Max Height 8.5 ft.
Max Weight: 48,000 lbs. Max Length 53 ft. |
Max Width 8.5 ft. | Max Height 11 ft.
Max Weight: 45,000 lbs. | Max Length 29 ft.
| Max Width 8.5 ft. | Max Height 11.5 ft.
In North Dakota and Looking for "Heavy Haul Transport Near Me"? We've Got You Covered!
North Dakota is a state with a ton of heritage. Dominated by the Great Plains, there's a lot of vast, wide open space. So if you're looking for transport "near me" give us a call. It doesn't matter if you're in a city, or as far away from civilization as you can be. Heavy Haulers has a truck to move your heavy equipment. Give us a call and we'll get you taken care of. (800) 908-6206
North Dakota Ports & Airports Heavy Haulers Transport To/From
Heavy Haulers ships cargo to rail yards in North Dakota. Both major railyards in North Dakota are operated by Burlington Northern Sant Fe Railroad:
● Minot - Gavin Yard.

● Fargo - Fargo Yard.
Heavy Haulers serves all North Dakota airports. North Dakota supports more than 30 airports, including four international airports. The busiest airports in North Dakota include:
● Fargo - international airport;

● Winot - international airport;

● Grand Forks - international airport;

● Williston - international airport.
When Shipping Equipment in North Dakota with Heavy Haulers;
When you choose Heavy Haulers, you're opting for quality. Plenty of fly-by-night operations want your transportation business. We are professional transporters who are in this for the long run. Our nationwide construction-equipment hauling company is:
● Experienced - More than 10 years transporting cargo in the U.S.;

● Double Insured - Carrier and Contingency, Just In Case;

● Professional - Fully Licensed, Bonded and Accredited;

● Efficient - We accept nearly all forms of payment, including cash.
Experience Shipping Heavy Equipment to North Dakota
Heavy Haulers specializes in hauling heavy loads such as construction equipment, oil field rigging and Super Loads. We are wideload experts! Heavy Haulers specializes in the heavy stuff! However - we can accommodate all types of equipment no matter the weight. Below you'll find some common pieces of equipment we've transported for the past 10+ years!
Common Equipment Heavy Haulers Transports
Trust Heavy Haulers to transport any brand of equipment you own. Most of our drivers are experienced heavy-machinery operators who can safely maneuver your loads aboard our trailers. Some of the brands we have shipped include:
Heavy Haulers Also Ships Heavy Equipment in The Following Cities:
Casselton, ND; Stanley, ND; Hazen, ND; Lisbon, ND; Tioga, ND; Bottineau, ND; Carrington, ND; Grand Forks AFB, ND; Langdon, ND; Mayville, ND; Oakes, ND; Harvey, ND; Hillsboro, ND; Belcourt, ND; Bowman, ND; Garrison, ND; Park River, ND; New Rockford, ND; Surrey, ND; Mapleton, ND; Washburn, ND; Burlington, ND; Larimore, ND; Cavalier, ND; Rolla, ND; Fort Totten, ND; Shell Valley, ND; Ellendale, ND; Cando, ND; Thompson, ND; Velva, ND; Hettinger, ND; Linton, ND; Crosby, ND; Belfield, ND; Cooperstown, ND; Northwood, ND; Beach, ND; New Salem, ND; Kenmare, ND; Parshall, ND; Killdeer, ND; Gwinner, ND; Hankinson, ND; Walhalla, ND; Kindred, ND; Enderlin, ND; Cannon Ball and Wishek, ND; Hebron and Harwood, ND;