Heavy Haulers Knows No Limit of Transport in Virginia Beach!
When you're ready to expand your Virginia Beach construction business with the purchase of an oversized vehicle or piece of equipment, the cost and hassle of moving such a large load can be daunting. Heavy Haulers is the premiere SuperLoad transport company who can deliver your investment wherever you need it in the United States, Canada or Mexico. We use specialized trailers to travel the grid-like byways around Virginia Beach, including U.S. Route 58 and I-64.
Ask Heavy Haulers to transport your machinery between Virginia Beach, Virginia and any state in the nation, Canada and Mexico. Contact Heavy Haulers for FREE transport estimates at (800) 908-6206.
Recent Transports heavy Haulers has taken to/from Virginia Beach, VA Heavy Haulers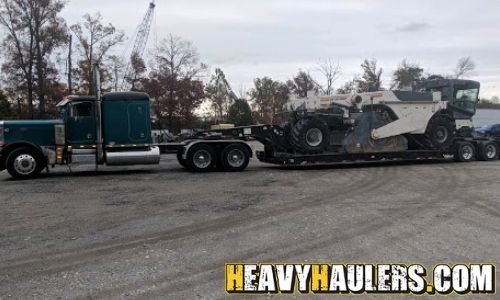 Shipping a 2004 Wirtgen WR2000 from Virginia Beach to Baltimore, MD
After years of hauling various freight Mike Phillips at Heavy Haulers has become one of the leading service providers at shipping Paving Equipment. This is a 2004 Wirtgen WR2000 that was picked up in Richmond, VA and delivered to the client in Baltimore, MD. Mike Phillips at Heavy Haulers was able to arrange this load to be picked up within 3 hours of initial contact with this client. Call Mike Phillips today for your free estimate to transport your Paving Equipment: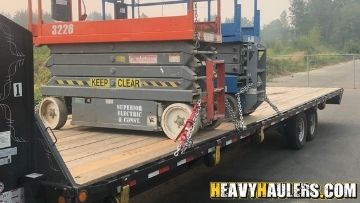 Transporting a Scissor Lift to Virginia Beach, VA
Heavy Haulers recently had the opportunity to handle this load for a client. This shipment consisted of 2 scissor lifts. This client was frantic when he called in. The original company that was supposed to have these picked up stopped answering the phone. Willam Thomas at Heavy Haulers took action and was able to get these picked up for the client. The driver loaded them in Washington and delivered them to the client in Virginia Beach. Call Willam Thomas to set up your last minute shipment with Heavy Haulers!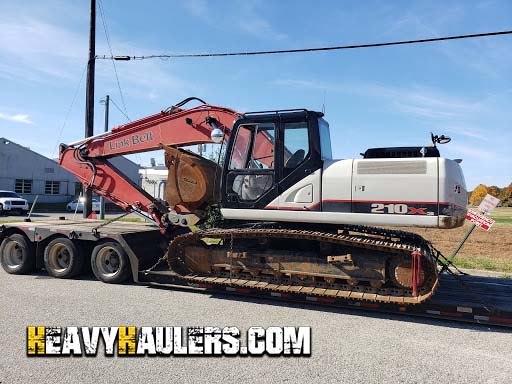 Hauling a 2016 Link Belt SX210 from Virginia Beach, VA
Not long ago Heavy Haulers shipped this beautiful 2016 Link Belt SX210 that was 36 feet long, 10 feet 6 inches wide and 9 feet 11 inches high from Richmond, VA to Marion, IN. This Excavator shipment was coordinated by Hal Foster at Heavy Haulers. Hal was able to get this 48,000 pounds excavator transported on a RGN. Hal was able to secure all proper permits for this oversize shipment. Trust in the professionals to get your shipment handled, call Hal Foster at Heavy Haulers for your free estimate today:
Transporting Heavy Machinery Around Virginia
Heavy Haulers promises clients exceptional service from the time we pick up your new equipment to the moment it makes it to your front door. Our drivers are trained in logistics and planning and are familiar with Virginia's state transport laws; we also obtain the paperwork and signage required by law to help you avoid potential fines or other hassles. Since we specialize in shipping heavy equipment, you can breathe easy knowing that your vehicle is being handled by well-qualified drivers.
Virginia Beach, Virginia Shipping and Transport Specifications
Airports: Closest is Norfolk International Airport

Ports: Port of Virginia

Trailer length limit w/out permit: 48' semi-trailer, 53' semi-trailer with 41' kingpin to center of rear tandem.




Superload designation fits when larger than following dimensions

Weight: Single-24,000lb; Tridem-60,000 Interstate/54,500 off Interstate

Width: 15'

Height: 15'

Length: 150' Overhang: 1/3 length of load

Transport Restrictions: Interstate travel is often continuous travel with the exception of super long or large overhang loads. Trucks cannot travel during morning/evening rush hour (7-9am, 4-6pm M-F) in the Tidewater Area, particularly on I-64 south of US 17, 1-264, I-464, I-664 and I-564. No travel on major holidays or during holiday weekends.

Popular Trailers in Virginia: Removable Goose-Neck, Flat Bed, Step-Deck Trailer.

Popular Vehicles we Transport: Refuse trucks, Logging trucks, Bucket Trucks
Heavy Haulers: Cross-state Hauling at its Best
Heavy Haulers Transport is based in Kentucky but has affiliate offices in both California and Florida. We have a decade of experience in towing oversized equipment and vehicles for a variety of industries, from logging to manufacturing and everything in between. We are accredited members of the Better Business Bureau and the TIA and have the reputation of being one of the country's most affordable heavy transport companies. Give us a call at 1-(800) 908-6206 and let us help you expand your sphere of influence. Our friendly customer service professionals are waiting to hear from you!
Looking For Transport
With a Specific Trailer?

Max Weight: 150,000+ lbs. | Main Deck Length 29 ft.
| Well Width 8.5 ft. | Legal Height Limit 11.6 ft.

Max Weight: 48,000 lbs. | Max Length 53 ft.
| Max Width 8.5 ft. | Max Height 8.5 ft.
Max Weight: 48,000 lbs. Max Length 53 ft. |
Max Width 8.5 ft. | Max Height 11 ft.
Max Weight: 45,000 lbs. | Max Length 29 ft.
| Max Width 8.5 ft. | Max Height 11.5 ft.
When Shipping Equipment in Virginia Beach, Virginia with Heavy Haulers;
When you choose Heavy Haulers, you're opting for quality. Plenty of fly-by-night operations want your transportation business. We are professional transporters who are in this for the long run. Our nationwide construction-equipment hauling company is:
● Experienced - More than 10 years transporting cargo in the U.S.;

● Double Insured - Carrier and Contingency, Just In Case;

● Professional - Fully Licensed, Bonded and Accredited;

● Efficient - We accept nearly all forms of payment, including cash.
Experience Shipping Heavy Equipment to / from Virginia Beach, Virginia
Heavy Haulers specializes in hauling heavy loads such as construction equipment, oil field rigging and Super Loads. We are wideload experts! Heavy Haulers specializes in the heavy stuff! However - we can accommodate all types of equipment no matter the weight. Below you'll find some common pieces of equipment we've transported for the past 10+ years!
Common Equipment Heavy Haulers Transports
Trust Heavy Haulers to transport any brand of equipment you own. Most of our drivers are experienced heavy-machinery operators who can safely maneuver your loads aboard our trailers. Some of the brands we have shipped include: