Professional Heavy Hauling Services in Columbia, SC.
When it's time to move your oversized equipment to or from Columbia, South Carolina, Heavy Haulers is the company to call. We are available 24/7 to provide you with a quick, hassle-free delivery of your important cargo anywhere in the United States, Canada and Mexico. Our drivers are familiar with South Carolina and its larger cities, including Charleston and Columbia; they also pass through smaller towns around the region, from Dentsville to Lexington and Monticello.
Ask Heavy Haulers to transport your machinery between Columbia, South Carolina and any state in the nation, Canada and Mexico. Contact Heavy Haulers for FREE transport estimates at (800) 908-6206.
Recent Transports heavy Haulers has taken to/from Columbia, South Carolina Heavy Haulers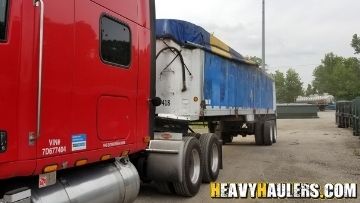 Shipping a Trailer from Ohio to South Carolina
Heavy Haulers recently shipped this Travis aluminum end dump trailer for a client. Brian G. at Heavy Haulers scheduled a driver to load this trailer in Ohio and have it delivered to its destination in South Carolina. If you need to haul an aluminum trailer or any type of trailer anywhere in the United States, Mexico or Canada call Brian G. at Heavy Haulers.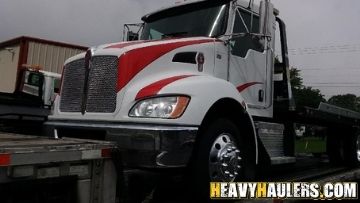 Transporting a Truck from Columbia to Wisconsin
This is a 2015 Kenworth T270 Rollback tow truck that was recently hauled by Heavy Haulers agent Willam Thomas. It was picked up in Columbia, South Carolina and dropped in Watertown, WI. This beautiful Kenworth Rollback was 30 feet long, 8 feet 5 inches long, 9 feet 5 inches tall and weighed approximately 18,000 pounds! If you are looking to get your Tow truck or any other freight transported call Willam Thomas at Heavy Haulers!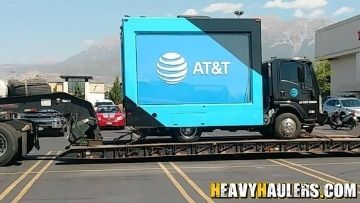 Hauling a truck to Columbia, SC
Let Heavy Haulers manage all of your transportation needs. This is a 2008 Isuzu NPR Cab and Chassis Truck that was recently hauled by Milos at Heavy Haulers. This Isuzu Cab and Chassis Truck was picked up in Orem, UT and delivered to Columbia, SC. This shipment was 18 feet long, 7 feet 8 inches wide, 12 feet high and weighed 12,500 pounds. Call Milos at Heavy Haulers to get your next shipment on a trailer today:
Shipping Heavy Equipment throughout South Carolina
Heavy Haulers is proud to provide you with exceptional service from the time your equipment is picked up from the manufacturer to the moment it parks at its final destination. Our drivers are experts at logistics and knowledgeable of state transport laws and local traffic patterns for Columbia. Many of them have stories of passing through the region on I-20, I-77 or I-26. We take care of any paperwork and obtain the necessary permits to travel South Carolina legally no matter what the size of your equipment or vehicle. Although we specialize in heavier loads, we are more than capable of towing your standard-sized excavation equipment as well.
Columbia Shipping and Transport Specs
Airports: Columbia Metropolitan Airport, Jim Hamilton-LB Owens Airport

Trailer length limit w/o Permit: 53' semi-trailer and its load, 41' from the center of the kingpin to center of the rear tandem.




Superload designation fits when larger than the following dimensions

Weight: 5 axles: 90,000lb 7 axles: 130,000lb

Width: 16'

Height: No set limit

Length: 125' Overhang: over 10' rear

Transport Restrictions: Farming equipment and forest equipment is often exempt from the need for a permit as long as it is not more than 12' wide or 90,000lb gross. No Sunday travel permitted for oversized loads, rush hour travel prohibited near urban areas for wide loads. Routes between I-95 and Myrtle beach prohibited on Friday and Saturday during the summer season.

Popular Trailers in South Carolina: RGN, Flatbed, Drop-Deck Trailer

Popular Vehicles we Transport: Rigging trucks, bucket trucks, cranes
Heavy Haulers: Your Best Choice for Cross-state Towing
Heavy Haulers is headquartered in Burlington, Kentucky, with offices in Ft. Lauderdale and Los Angeles. We deliver industry-specific loads that fit overweight or over-dimensional designation for companies all over the globe. More than ten years of experience has made us the number-one choice for business owners looking for fast and affordable delivery.We carry carrier and contingency insurance to provide you with the peace of mind in knowing that even in the worst-case-scenario your business is protected from the unknown. Let us be your choice for cross-country hauling. Call our personable customer service professionals at 1-(800) 908-6206 and ask for a free shipping quote. We can't wait to work with you!
Looking For Transport
With a Specific Trailer?

Max Weight: 150,000+ lbs. | Main Deck Length 29 ft.
| Well Width 8.5 ft. | Legal Height Limit 11.6 ft.

Max Weight: 48,000 lbs. | Max Length 53 ft.
| Max Width 8.5 ft. | Max Height 8.5 ft.
Max Weight: 48,000 lbs. Max Length 53 ft. |
Max Width 8.5 ft. | Max Height 11 ft.
Max Weight: 45,000 lbs. | Max Length 29 ft.
| Max Width 8.5 ft. | Max Height 11.5 ft.
When Shipping Equipment in Columbia, South Carolina with Heavy Haulers;
When you choose Heavy Haulers, you're opting for quality. Plenty of fly-by-night operations want your transportation business. We are professional transporters who are in this for the long run. Our nationwide construction-equipment hauling company is:
● Experienced - More than 10 years transporting cargo in the U.S.;

● Double Insured - Carrier and Contingency, Just In Case;

● Professional - Fully Licensed, Bonded and Accredited;

● Efficient - We accept nearly all forms of payment, including cash.
Experience Shipping Heavy Equipment to / from Columbia, South Carolina
Heavy Haulers specializes in hauling heavy loads such as construction equipment, oil field rigging and Super Loads. We are wideload experts! Heavy Haulers specializes in the heavy stuff! However - we can accommodate all types of equipment no matter the weight. Below you'll find some common pieces of equipment we've transported for the past 10+ years!
Common Equipment Heavy Haulers Transports
Trust Heavy Haulers to transport any brand of equipment you own. Most of our drivers are experienced heavy-machinery operators who can safely maneuver your loads aboard our trailers. Some of the brands we have shipped include: