Moving Your Shed With Top Quality Shipping Services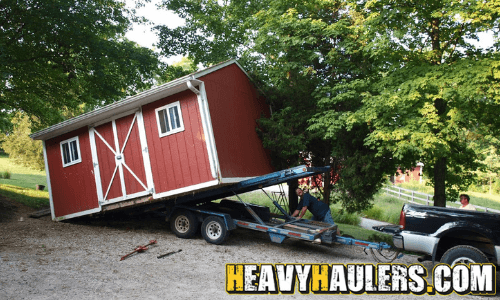 Contact Our Shed Transport
Specialist Now (800) 908-6206
Moving a storage shed with the right transport company is important. Heavy Haulers is a hauling company with over a decade of experience moving storage sheds all across the country. We provide transport solutions our clients can rely on. When transporting oversize storage sheds, we provide everything you need. Your dedicated shipping agent will determine the best trailer, obtain necessary permits, and even provide load assistance. At Heavy Haulers we are a one-stop shed mover company you can rely on.
Storage sheds have a multitude of purposes. From garden sheds to large steel framed carports, sheds can vary in size and construction, but their ultimate goal is the same: to protect and store your belongings. At Heavy Haulers, you can rely on us to do the same when we ship a storage shed for you. No matter its size, our storage shed moving service will look after your storage equipment from the beginning to the end of the storage shed transport process. We move sheds all across the United States with the dependable service you expect from a hauling company. Get your storage shed moving rate today! (800) 908-6206
Transporting Locally and Overseas with The Best Storage Shed Mover Company
Heavy Haulers is a shed moving company with the experience and resources to ship a shed, not just across town, but even overseas. We transport storage sheds locally and all across the United States, including Alaska and Hawaii. Moving a shed with the proper equipment is extremely important in order to ensure your freight is delivered safely. For over a decade we have worked to perfect the shed moving process, finding the best truck, trailers, and safety measures to get your storage shed where it needs to be.
We also have a dedicated international shed moving team. If you need to transport a shed overseas, our team will get it done right. Our international movers will provide port-to-port shed hauling, gather the customs paperwork, and make sure everything is squared away. Heavy Haulers understands the importance of moving a shed safely. We are licensed, bonded, and insured, so you have confidence in your storage shed moving experience. Call now for a storage shed shipping quote! (800) 908-6206
Common Storage Shed Manufacturers We Move:
● Arrow Sheds
● Best Barns
● Duramax
● ELGO
● EZ-Fit
● Viking Steel Structures
● Handy Home Products
● LeisureSeason
● Leonard
● Little Cottage Company
● Oriana
● Palram
● Rhino Shelter
● Shelter Logic
● Suncast
● Tuffshed
● Versatube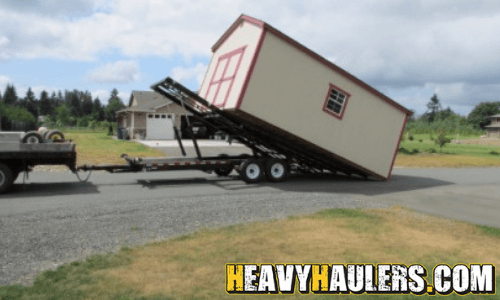 HOW TO Move STORAGE SHEDS WITH HEAVY HAULERS
Storage sheds can be moved either disassembled or in one piece, depending on size, weight, structure, and composition. Sheds with glass windows typically require storage shed shipping to contain at least a partial disassembly process to avoid bending or breakage during transport. Moving a storage shed is also safest when the storage shed is transported empty. Paths between the storage shed locations and the trailer should be free of obstructions so that our storage shed haulage crew can get to work. Contact our storage shed transport team to find out more about the recommended storage shed moving method that best suits your requirements. Let's get started! (800) 908-6206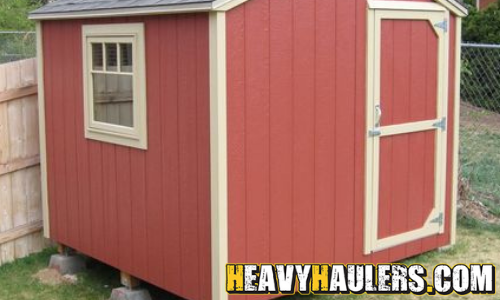 Storage Shed Transport Prices and Quotes
When it comes to moving a shed, you want to find the most affordable prices for the best shipping services available. Heavy Haulers is the number one shed mover company in the United States. That's because our dedicated agents are here to find the shed shipping services that fit your needs. Based on the size of your shed, the distance to be traveled, the permits needed and more, we'll provide you with an accurate and affordable storage shed transport quote. If pilot cars are necessary to guide your oversize shed through the highways, we provide those as well.
Heavy Haulers is a one-stop shed transport company. That's because we offer everything at storage shed moving prices you can afford. Aside from the above, we also provide storage shed loading and unloading assistance. Our priority is offering the best storage shed moving services, at the most affordable prices. Call Heavy Haulers now for a storage shed moving quote! (800) 908-6206
Heavy Haulers Ships Across All 50 States
Alabama - Alaska - Arizona - Arkansas - California - Colorado - Connecticut - Delaware - Florida - Georgia - Hawaii - Idaho - Illinois - Indiana - Iowa - Kansas - Kentucky - Louisiana - Maine - Maryland - Massachusetts - Michigan - Minnesota - Mississippi - Missouri - Montana - Nebraska - Nevada - New Hampshire - New Jersey - New Mexico - New York - North Carolina - North Dakota - Ohio - Oklahoma - Oregon - Pennsylvania - Rhode Island - South Carolina - South Dakota - Tennessee - Texas - Utah - Vermont - Virginia - Washington - West Virginia - Wisconsin - Wyoming
Looking For Transport
With a Specific Trailer?

Max Weight: 150,000+ lbs. | Main Deck Length 29 ft.
| Well Width 8.5 ft. | Legal Height Limit 11.6 ft.

Max Weight: 48,000 lbs. | Max Length 53 ft.
| Max Width 8.5 ft. | Max Height 8.5 ft.
Max Weight: 48,000 lbs. Max Length 53 ft. |
Max Width 8.5 ft. | Max Height 11 ft.
Max Weight: 45,000 lbs. | Max Length 29 ft.
| Max Width 8.5 ft. | Max Height 11.5 ft.
Common Equipment Heavy Haulers Transports
Trust Heavy Haulers to transport any brand of equipment you own. Most of our drivers are experienced heavy-machinery operators who can safely maneuver your loads aboard our trailers. Some of the brands we have shipped include:
See what you need?
Call us for a FREE Shipping Estimate at (800) 908-6206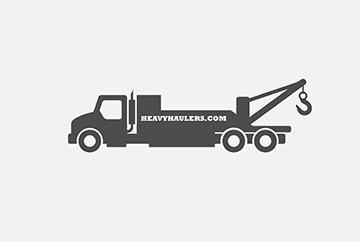 Heavy Haulers Comprehensive Storage Shed Moving Services
● Shed transport company.

● Moving sheds across the United States.

● Transporting sheds overseas.

● All-inclusive storage shed moving services.

● Storage shed mover company.

● Moving oversize storage sheds.

● Providing affordable rates for storage shed shipping.

● Load assistance for storage shed moves.

● On time storage shed delivery.

● Storage shed movers with affordable rates.