Curbside freight pickup throughout the U.S., Canada, and Mexico
At Heavy Haulers, we have a nationwide transportation network that enables us to provide curbside freight pickup throughout North and South America, and throughout Canada. We're experienced at crossing borders, whether they're state or country, and will handle any associated customs and weigh station requirements that you may need in addition to our curbside freight pickup service. Call now for a free shipping estimate! (800) 908-6206
Our curbside pickup services are available across both residential and business locations where there isn't a loading dock. For international shipments, we can provide shipping from dock-to-curbside. Our curbside services are available for remote areas, including small towns, construction, and excavation sites, as well as in every major city throughout the U.S. We're specialists at handling heavy cargo and oversized shipments. We can provide curbside freight pickup for a range of machinery and inventory.
Contact Our Expert Shipping Specialist's
(800) 908-6206
Comprehensive Curbside Freight Pickup Services
Heavy Haulers can arrange for a variety of shipments to be collected using our curbside freight pickup service. It's possible to utilize curbside freight pickup for unpackaged loads such as boxes and bins shipped without pallets, as well as heavy or oversized equipment and vehicles. Traditionally used for residential moves, where furniture, appliances, and other heavy or awkward cargo needs to move from one destination to another, curbside freight pickups are the go-to solution for homes and businesses that do not have adequate loading areas. Our comprehensive curbside freight pickup services include door-to-door shipping, including loading and unloading, providing a convenient, efficient method of transportation for a variety of cargo. Trust us to meet your deadlines and handle all of the intricate details, like which roads to travel, what customs paperwork to do, and how to handle a variety of road conditions. Our comprehensive curbside freight pickup services combine everything you need into one easy-to-manage shipping project.
Common curbside freight pickups:
● Excavation Equipment
● Construction Machinery
● Pallet Freight
● Appliances
● Furniture
● Oversized Cargo
● Overweight Cargo
● Vehicles
How to Ship Using a Curbside Freight Pickup Service
Curbside freight pickup will typically collect goods from the end of a driveway or outside a business premises, e.g., shop, restaurant, or hotel. Essential curbside freight pickup services will entail the collection of freight from the curb, lifting and securing the load onto the cargo truck, then transporting to your chosen destination. A curbside service implies your shipment is ready for pick up and packaged suitably, and getting your load to the roadside is your responsibility. Someone will need to be on-site to meet the delivery. You can organize shipping using our curbside freight pickup through any of our representatives. If you need additional services such as load tracking and lift gates, you can also request these through a Heavy Haulers representative. Call now! (800) 908-6206
Common Trailer Types Available from Heavy Haulers
Heavy Haulers specializes in hauling heavy loads such as construction equipment, oil field rigging and Super Loads. We are wideload experts! We offer an extensive range of trailer choices, including:
Max Weight: 48,000 lbs. | Max Length 53 ft. | Max Width 8.5 ft. | Max Height 11 ft.




Max Weight: 45,000 lbs. | Max Length 29 ft. | Max Width 8.5 ft. | Max Height 11.5 ft.
Max Weight: 150,000+ lbs. | Main Deck Length 29 ft. | Well Width 8.5 ft. | Legal Height Limit 11.6 ft.




Max Weight: 48,000 lbs. | Max Length 53 ft. | Max Width 8.5 ft. | Max Height 8.5 ft.
See what you need?
Call us for a FREE Shipping Estimate at (800) 908-6206
HEAVYHAULERS.COM
START YOUR SHIPMENT TODAY!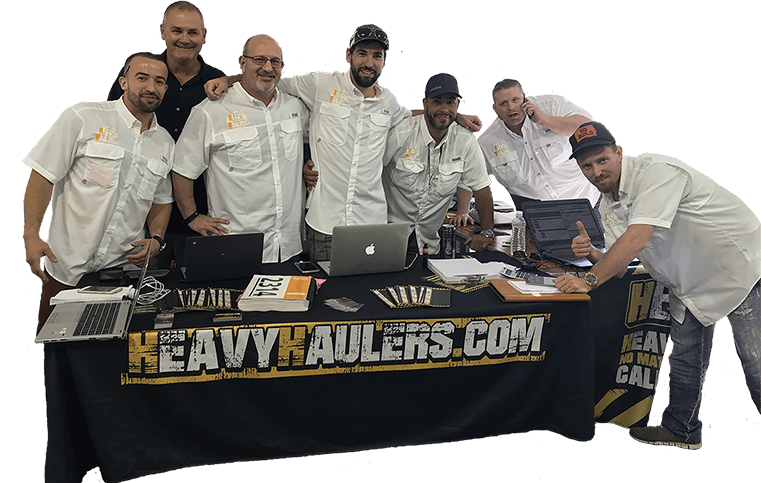 We Are Ready To Help You Haul Your Equipment!
See what you need?
Call us for a FREE Shipping Estimate at (800) 908-6206