A Small Heavy Hauling Start Leads to a Big Future
Heavy Haulers started off rather innocuous in 2006 as a small company dedicated to shipping large equipment. As the company grew in clientele, it also grew in size, branching out from their Kentucky home to create offices in Los Angeles and Ft. Lauderdale. In 2019, Heavy Haulers is one of the country's most respected and recognized heavy machinery and equipment shipping companies.
Our Heavy Hauling Services Scope is Wider than Most
We've been in the business of oversized transport now for more than a decade, and in that time we have transported a huge variety of vehicles, equipment, machinery, and parts for clients across the North American continent. Some of the industries we commonly haul for as well as equipment/vehicles we ship include:
Contact Our Expert Shipping Specialist's
(800) 908-6206
● Construction: Crane, rock truck, wheel loader, excavator, precast
● Transportation: Aircraft frame, fire truck, railway cars, trolley
● Education: School bus, boilers, renovation equipment/parts
● Energy: Drilling rig, wind energy equipment, mining equipment
● Manufacturing: Industrial furnace, turret press
● Real Estate: Mobile home, RV, trusses, foundational materials
● Agriculture: Tractors, Cultivators, combines, farm trucks
Within the various industries, we ship almost anything you could imagine, from rigging and drilling equipment to aircraft and large construction equipment. Our services are affordable and comprehensive. Not only do we provide quality, efficient hauling of your cargo, we offer millwright services for oversized loads that can be broken down into smaller shipping units, as well as route planning and administrative services and break bulk cargo loading, unloading and shipping. Our goal is to provide you with a streamlined and worry-free shipping process, no matter what your heavy hauling needs.
The Process, Tools and Community for the Job
Heavy Haulers is a company with the tools, experience and team players needed to equipment and vehicles that at first glance appear impossible to move long distances. In fact, we specialize in just that sort of shipping project. From From over-dimensional transport of the super wide (over 16ft), super tall (greater than 16ft) or extra long (exceeding 125ft) part or piece of equipment to the SuperLoad haul that weighs more than 200,000 pounds, you can rest assured that we have both the tools and the experience to ship your cargo in an efficient and timely manner.
To haul overweight and over-dimensional vehicles, we use specialized trailers such as the Removable Gooseneck (RGN) and Drop Deck trailers. Our drivers are also trained in logistics and have an intimate knowledge of local and national statutes for hauling heavy equipment. When you call Heavy Haulers, we work with you to ensure that your vehicle, piece of machinery, or equipment makes it safely to its destination in the condition it started in and within a reasonable time. We handle everything from route planning and permit applications to the actual shipment of your cargo from start to finish.
At Heavy Haulers, we understand the needs of our clients, whether they represent large corporations, small business entities or private owners with a need for professional hauling. We are insured, licensed and bonded to ensure that we meet all of your shipping needs. Our shipping prices are competitive and often depend on the dimensions of the equipment, its travel distance and how it is transported. Some oversized equipment can be broken down to make two legal loads, which might cost more in trailer usage but will ultimately save you the need to pay for special permits and escorts. Call Heavy Haulers today at (800) 908-6206 and ask our courteous, knowledgeable scheduling professionals what we can do to help you transport your important equipment where you need it most.
Common Services Heavy Haulers Provide - Insured, and Door-To-Door
Common Trailer Types Available from Heavy Haulers
Heavy Haulers specializes in hauling heavy loads such as construction equipment, oil field rigging and Super Loads. We are wideload experts! We offer an extensive range of trailer choices, including:
Max Weight: 48,000 lbs. | Max Length 53 ft. | Max Width 8.5 ft. | Max Height 11 ft.




Max Weight: 45,000 lbs. | Max Length 29 ft. | Max Width 8.5 ft. | Max Height 11.5 ft.
Max Weight: 150,000+ lbs. | Main Deck Length 29 ft. | Well Width 8.5 ft. | Legal Height Limit 11.6 ft.




Max Weight: 48,000 lbs. | Max Length 53 ft. | Max Width 8.5 ft. | Max Height 8.5 ft.
See what you need?
Call us for a FREE Shipping Estimate at (800) 908-6206
HEAVYHAULERS.COM
START YOUR SHIPMENT TODAY!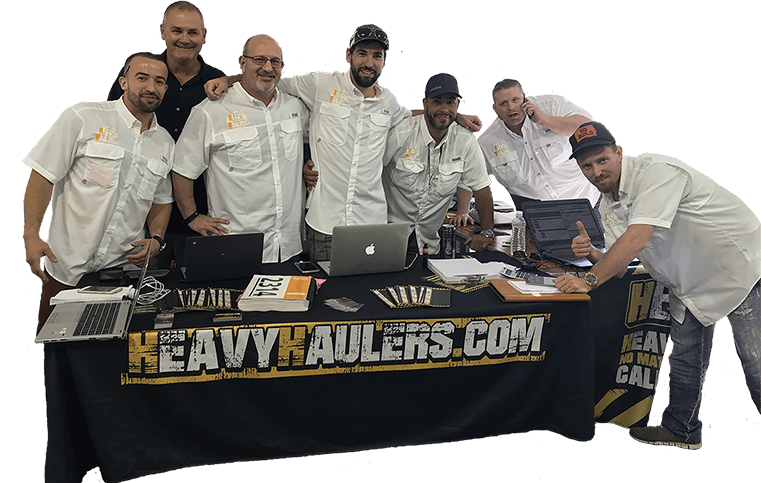 We Are Ready To Help You Haul Your Equipment!
See what you need?
Call us for a FREE Shipping Estimate at (800) 908-6206